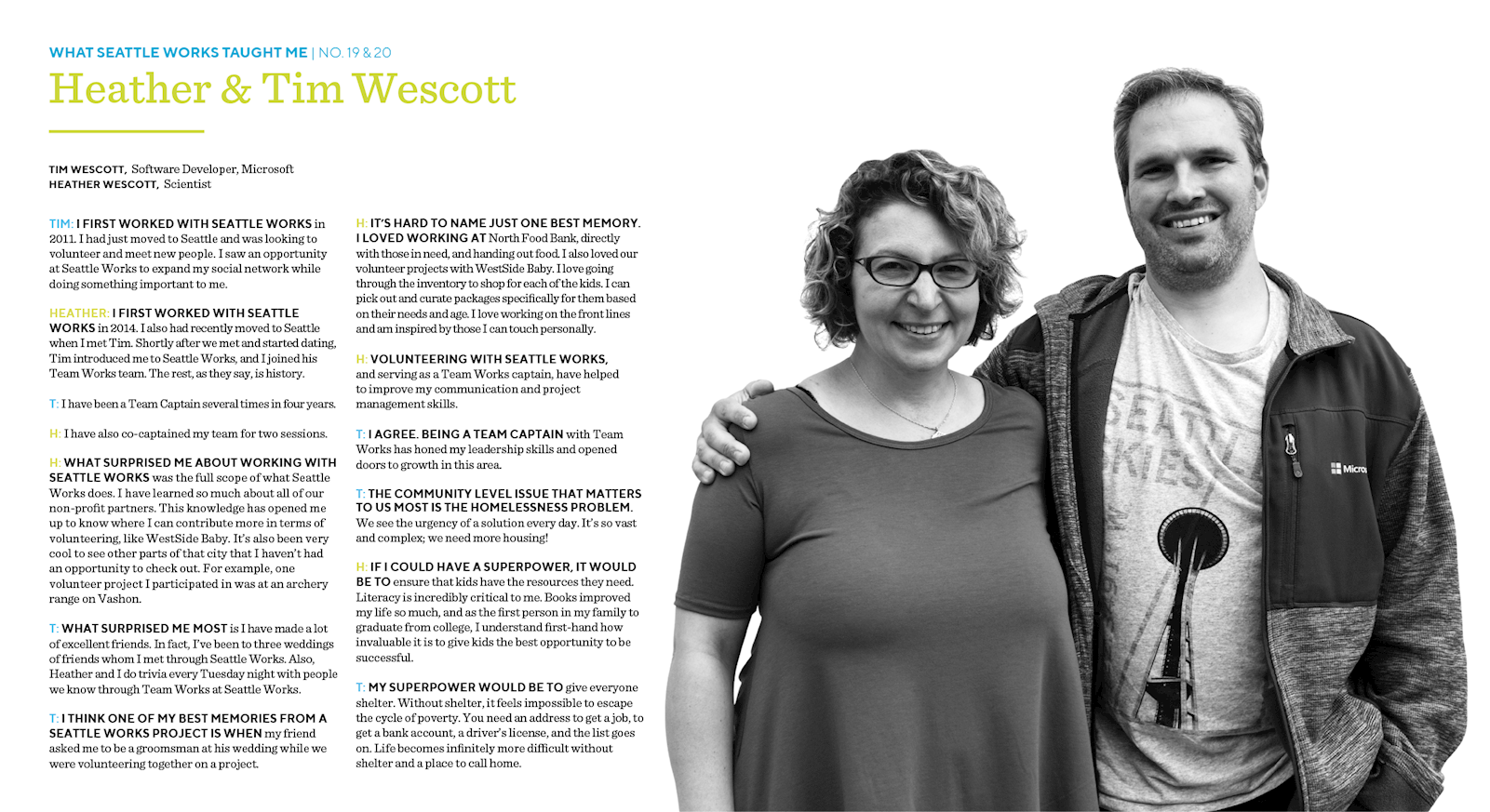 Tim Wescott, Software Developer, Microsoft
Heather Wescott, Scientist
Tim: I first worked with Seattle Works in 2011. I had just moved to Seattle and was looking to volunteer and meet new people. I saw an opportunity at Seattle Works to expand my social network while doing something important to me.
Heather: I first worked with Seattle Works in 2014, I also had recently moved to Seattle when I met Tim. Shortly after we met and started dating, Time introduced me to Seattle Works, and I joined his Team Works team. The rest, as they say in history.
T: I have been a Team Captain several times in four years.
H: I have also co-captained my team for two sessions.
H: What surprised me about working with Seattle Works was the full scope of what Seattle Works does. I have learned so much about all of our non-profit partners. This knowledge has opened me up to know where I can contribute more in terms of volunteering, like Westside baby. It's also been very cool to see other parts of that city that I haven't had an opportunity to check out. For example, one volunteer project I participated in was at an archery range on Vashon.
T: What surprised me most is I have made a lot of excellent friends. In fact, I've been to three weddings of friends whom I met through Seattle Works. Also, Heather and I do trivia every Tuesday night with people we know through Team Works at Seattle Works.
T: I think one of my best memories from a Seattle Works project is when my friend asked me to be a groomsman at his wedding while we were volunteering together on a project
H: Its hard to name just one best memory. I loved working at North Food Bank, directly with those in need, and handing out food. I also loved our volunteer projects with Westside Baby. I love going through the inventory to shop for each of the kids. I can pick out and curate packages specifically for them based on their needs and age. I love working on the front lines and am inspired by those I can tough personally.
H: Volunteering with Seattle Works, and serving as Team Works captain, have helped to improve my communication and project management skills.
T: I agree. Being a team captain with Team Works has honed my leadership skills and opened doors to growth in this area.
T: The community level issue that matters to us most is the homelessness problem. We see the urgency of a solution every day. It's so vast and complex; we need more housing!
H: If I could have a superpower, It would be to ensure that kids have the resources they need. Literacy is incredibly critical to me. Books improved my life so much, and as the first person in my family to graduate from college, I understand first-hand how invaluable it is to give kids the best opportunity to be successful.
T: My superpower would be to give everyone shelter. Without shelter, it feels impossible to escape the cycle of poverty. You need an address to get a job, to get a bank account, a driver's license, and the list goes on. Life becomes infinitely more difficult without shelter and a place to call home.