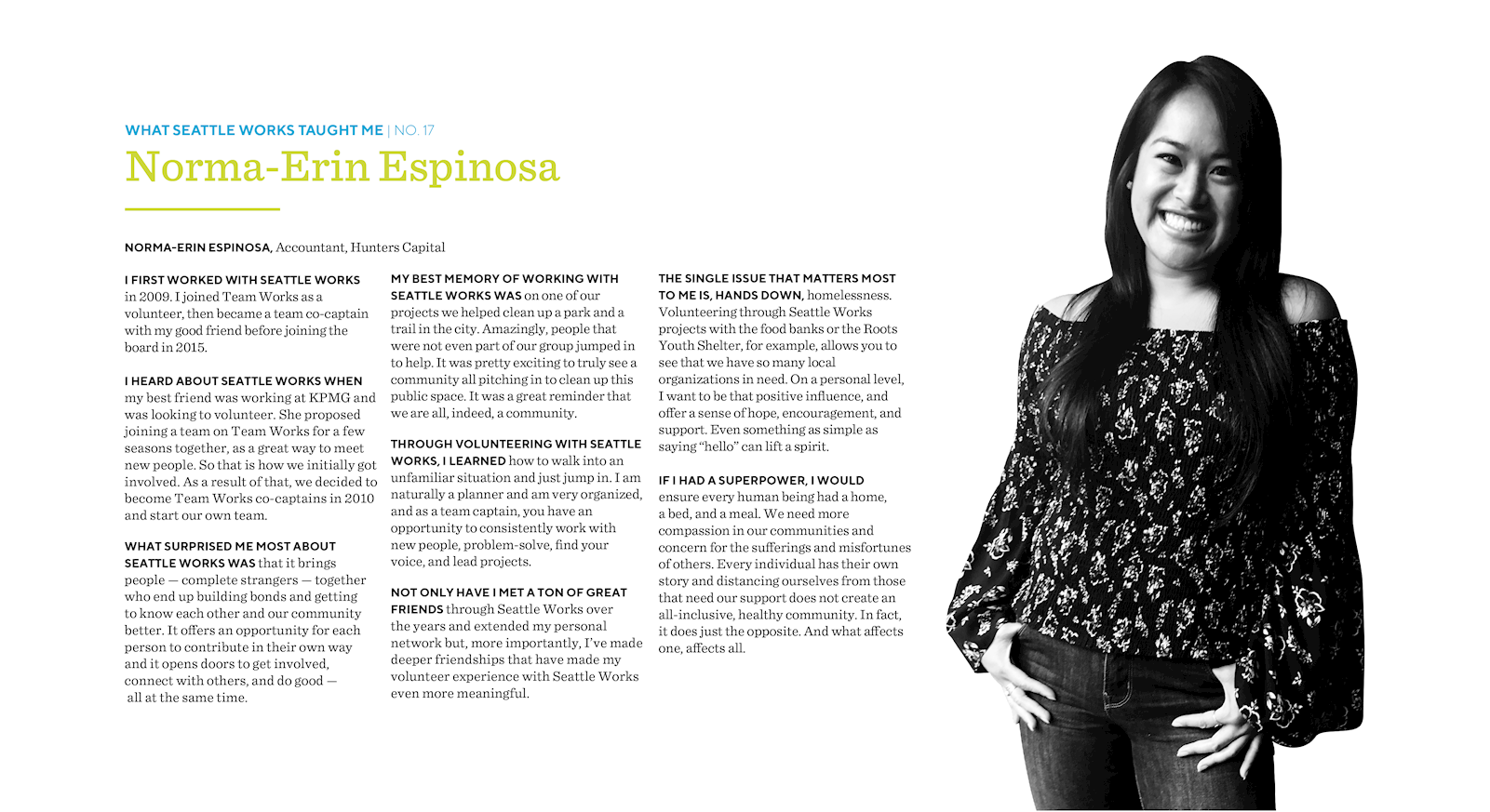 Norma-Erin Espinosa, Accountant, Hunters Capital
I first worked with Seattle Works in 2009. I joined Team Works as a volunteer, then became a team co-captain with my good friend before joining the board in 2015.
I heard about Seattle Works when my best friend was working at KPMG and was looking to volunteer. She proposed joining a team on Team Works for a few seasons together, as a great way to meet new people. So that is how we initially got involved. As a result of that, we decided to become Team Works co-captains in 2010 and start our own team.
What surprised me most about Seattle Works was that it brings people-complete strangers- together who end up building bonds and getting to know each other and our community better. If offers an opportunity for each person to contribute in their own way and it opens doors to get involved, connect with others, and do good- all at the same time.
My best memory of working with Seattle Works was on one of our projects we helped clean up a park and a trail in the city. Amazingly, people that were not even part of our group jumped in to help. It was pretty exciting to truly see a community all pitching in to clean up this public space. It was a great reminder that we are all, indeed, a community.
Through volunteering with Seattle Works, I learned how to walk into an unfamiliar situation and just jump in. I am naturally a planner and am very organized, and as a team captain, you have an opportunity to consistently work with new people, problem-solve, find your voice and lead projects.
Not only have I met a ton of great friends through Seattle Works over the years and extended my personal network, but more importantly, I've made deeper friendships that have made my volunteer experience with Seattle Works even more meaningful.
The single issue that matters most to me is, hands down, homelessness. Volunteering through Seattle Works project with the food banks or the Roots Youth Shelter, for example, allows you to see that we have so many local organizations in need. On a personal level, I want to be that positive influence, and offer a sense of hope, encouragement, and support. Even something as simple as saying "hello" can lift a spirit.
If I had a superpower, I would ensure every human being had a home, a bed, and meal. We need more compassion in our communities and concern for the sufferings and misfortunes of others. Every individual has their own story and distancing ourselves from those that need our support does not create an all-inclusive, healthy community. In fact, it does just the opposite. And what affects one affects all.