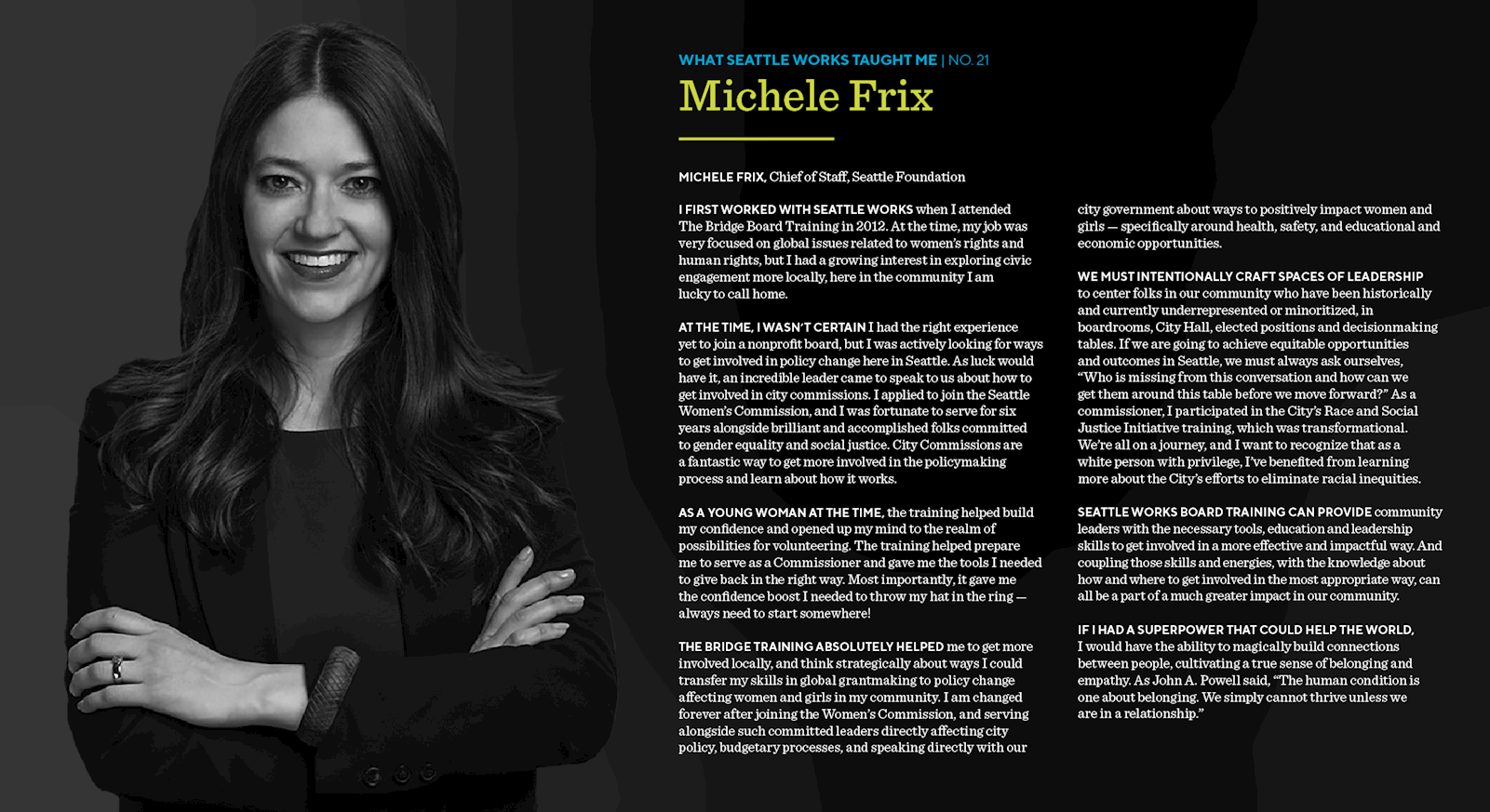 Michele Frix, Chief of Staff, Seattle Foundation
I first worked with Seattle Works when I attended The Bridge Board Training in 2012. At the time, my job was very focused on global issues related to women's rights and human rights, but I had a growing interest in exploring civic engagement more locally, here in the community I am lucky to call home.
At the time, I wasn't certain I had the right experience yet to join a nonprofit board, but I was actively looking for ways to get involved in policy change here in Seattle. As luck would have it, an incredible leader came to speak to us about how to get involved in city commissions. I applied to join the Seattle Women's Commission, and I was fortunate to serve for six years alongside brilliant and accomplished folks committed to gender equality and social justice. City Commissions are a fantastic way to get more involved in the policymaking process and learn about how it works.
As a young woman at the time, the training helped build my confidence and opened up my mind to the realm of possibilities for volunteering. The training helped prepare me to serve as a Commissioner and gave me the tools I needed to give back in the right way. Most importantly, it gave me the confidence boost I needed to throw my hat in the ring – always need to start somewhere!
The Bridge training absolutely helped me to get more involved locally, and think strategically about ways I could transfer my skills in global grantmaking to policy change affecting women and girls in my community. I am changed forever after joining the Women's Commission, and serving alongside such committed leaders directly affecting city policy, budgetary processes, and speaking directly with our city government about ways to positively impact women and girls – specifically around health, safety, and educational and economic opportunities.
We must intentionally craft spaces of leadership to center folks in our community who have been historically and currently underrepresented or minoritized, in boardrooms, City Hall, elected positions and decision-making tables. If we are going to achieve equitable opportunities and outcomes in Seattle, we must always ask ourselves, "Who is missing from this conversation and how can we get them around this table before we move forward?" As a commissioner, I participated in the City's Race and Social Justice Initiative training, which was transformational. We're all on a journey, and I want to recognize that as a white person with privilege, I've benefited from learning more about the City's efforts to eliminate racial inequities.
Seattle Works board training can provide community leaders with the necessary tools, education and leadership skills to get involved in a more effective and impactful way. And coupling those skills and energies, with the knowledge about how and where to get involved in the most appropriate way, can all be a part of a much greater impact in our community.
If I had a superpower that could help the world, I would have the ability to magically build connections between people, cultivating a true sense of belonging and empathy. As John A. Powell said, "The human condition is one about belonging. We simply cannot thrive unless we are in relationship."