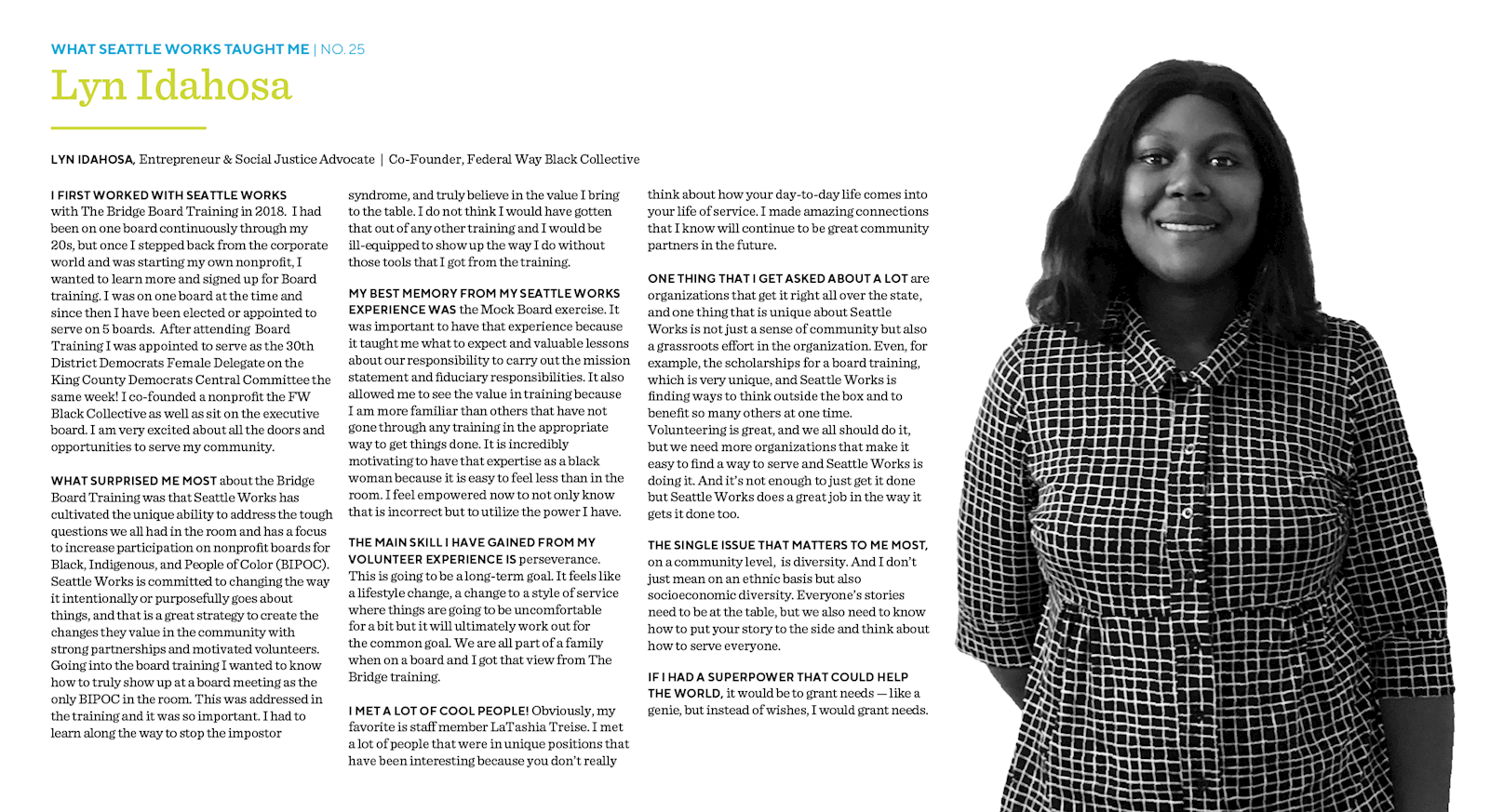 Lyn Idahosa, Entrepreneur and Social Justice Advocate, Co-Founder, Federal Way Black Collective
I first worked with Seattle Works with The Bridge Board Training in 2018. I had been on one board continuously through my 20s, but once I stepped back from the corporate world and was starting my own nonprofit, I wanted to learn more and signed up for Board training. I was on one board at the time and since then I have been elected or appointed to serve on 5 boards. After attendings Board Training I was appointed to serve at the 30th District Democrats Female Delegate on the King County Democrats Central Committee the same week! I co-founded a nonprofit the FW Black Collective as well as sit on the executive board. I am very excited about all the doors and opportunities to serve my community.
What surprised me most about the Bridge Board Training was that Seattle Works has cultivated the unique ability to address the tough questions we all had in the room and has a focus to increase participate on nonprofit boards for Black, Indigenous, and People of Color (BIPOC). Seattle Works is committed to changing the way it intentionally or purposefully goes about things, and that is a great strategy to create the changes they value in the community with strong partnerships and motivated volunteers. Going into the board training I wanted to know how to truly show up at a board meeting as the only BIPOC in the room. This was addressed in the training and it was so important. I had to learn along the way to stop the impostor syndrome, and truly believe the value I bring to the table. I do not think I would have gotten that out of any other training and I would be ill-equipped to show up the way I do without those tool that I got from the training.
My best memory from my Seattle Works experience was the Mock Board exercise. It was important to have that experience because it taught me what to expect and valuable lessons about our responsibility to carry out the mission statement and fiduciary responsibilities. It also allowed me to see the value in training because I am more familiar than others that have not gone through any training in the appropriate way to get things done. It is incredibly motivating to have that expertise as a black woman because it is easy to feel less than in the room. I feel empowered now to not only know that is incorrect but to utilize the power I have.
The main skill I have gained from my volunteer experience is perseverance. This is going to be a long-term goal. It feels like a lifestyle change, a change to a style of service where things are going to be uncomfortable for a bit but it will ultimately work out for the common goal. We are all part of a family when on a board and I got that view from The Bridge Training.
I met a lot of cool people! Obviously, my favorite is staff member LaTashia Treise. I met a lot of people that were in unique positions that have been interesting because you don't really think about how your day-to-day life comes into your life of service. I made amazing connections that I know will continue to be great community partners in the future.
One thing that I get asked about a lot are organizations that get it right all over the state, and one thing that is unique about Seattle Works is not just a sense of community but also a grassroots efforts in the organization. Even, for example, the scholarships for a board training, which is very unique, and Seattle Works is finding ways to think outside the box and to benefit so many others at one time. Volunteering is great, and we should all do it, but we need more organizations that make it easy to find a way to serve and Seattle Works is doing it. And it's not enough to just get it done but Seattle Works does a great job in the way it gets it done too.
The single issue that matters to me most, on a community level, is diversity. And I don't just mean on an ethnic basis but also socioeconomic diversity. Everyone's stories need to be at the table, but was also need to know how to put your story to the side and think about how to serve everyone.
If I had a superpower that could help the world, it would be to grant needs – like a genie, but instead of wishes, I would grant needs.