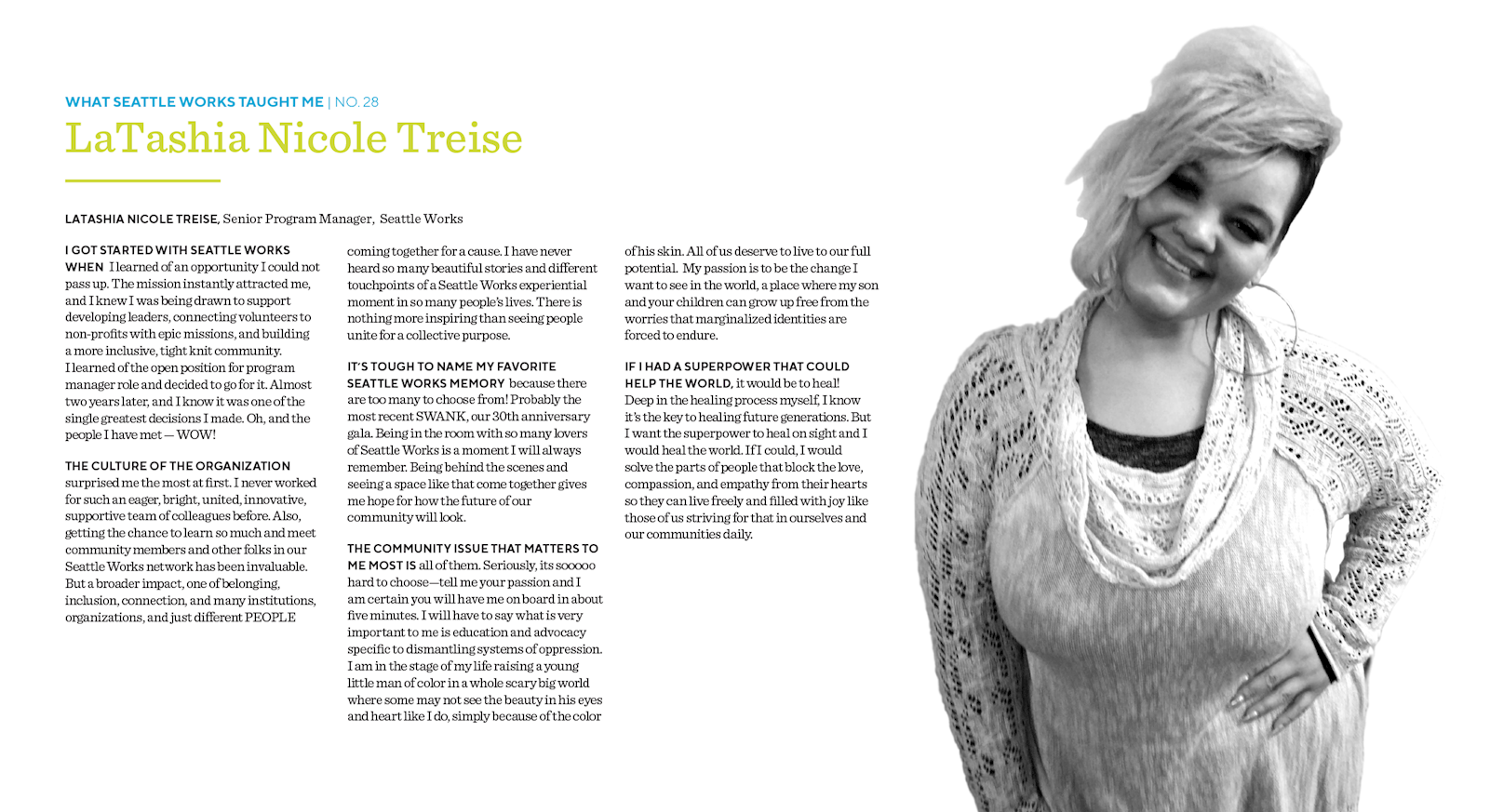 LaTashia Nicole Treise, Senior Program Manager, Seattle Works
I got started with Seattle Works when I learned of an opportunity I could not pass up. The mission instantly attracted me, and I knew I was being drawn to support developing leaders, connecting volunteers to non-profits with epic missions, and building a more inclusive, tight knit community. I learned of the open position for program manager role and decided to go for it. Almost two years later, and I know it was one of the single greatest decisions I made. Oh, and the people I have met – WOW!
The culture of the organization surprised me the most at first. I never worked for such an eager, bright, united, innovative, supportive team of colleagues before. Also, getting the change to learn so much and meet community members and other folks in our Seattle Works network has been invaluable. But a broader impact, one of belonging, inclusion, connection, and may institutions, organizations, and just different PEOPLE coming together for a cause. I have never heard so many beautiful stories and different touchpoints of a Seattle Works experiential moment in so many people's lives. There is nothing more inspiring than seeing people unite for a collective purpose.
It's tough to name my favorite Seattle Works memory because there are too many to choose from! Probably the most recent SWANK, our 30th anniversary gala. Being in the room with so many lovers of Seattle Works is a moment I will always remember. Being behind the scenes and seeing a space like that come together gives me hope for how the future of our community will look.
The community issue that matters to me most is all of them. Seriously, it's sooooo hard to choose—tell me your passion and I am certain you will have me on board in about five minutes. I will have to say what is very important to me is education and advocacy specific to dismantling systems of oppression. I am in the stage of my life raising a young little man of color in a whole scary big world where some may not see the beauty in his eyes and heart like I do, simply because of the color of his skin. All of us deserve to live to our full potential. My passion is to be the change I want to see in the world, a place where my son and your children can grow up free from the worries that marginalized identities are forced to endure.
If I had a superpower that could help the world, it would be to heal! Deep in the healing process myself, I know it's the key to healing future generations. But I want the superpower to heal on sight and I would heal the world. If I could, I would solve the parts of people that block the love, compassion, and empathy from their hearts so they can live freely and filled with joy like those of us striving for that in ourselves and our communities daily.