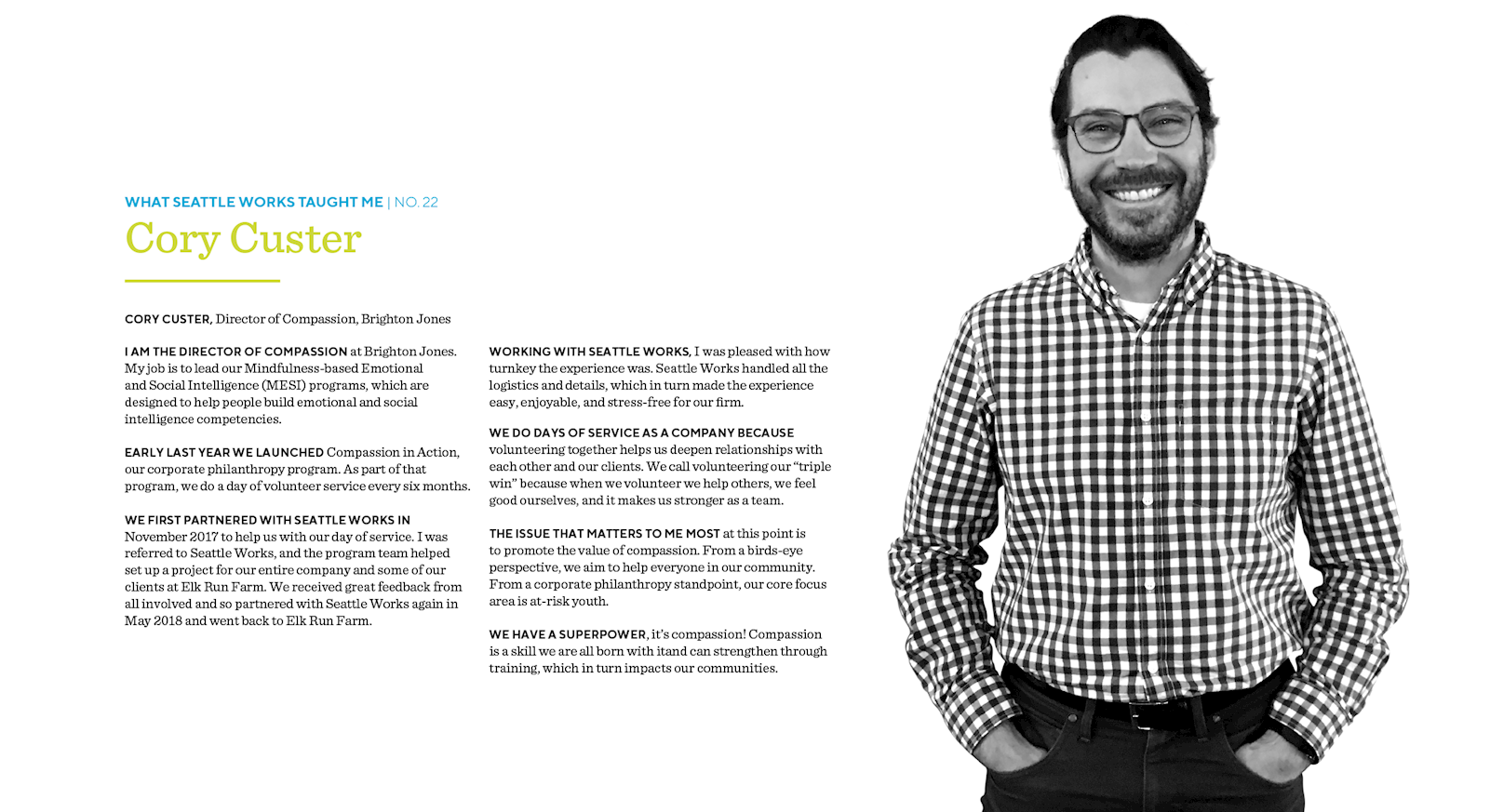 Cory Custer, Director of Compassion, Brighton Jones
I am the Director of Compassion at Brighton Jones. My job is to lead our Mindfulness-based Emotional and Social Intelligence (MESI) programs, which are designed to help people build emotional and social intelligence competencies.
Early last year we launched Compassion in Action, our corporate philanthropy program. As part of that program, we do a day of volunteer service every six months.
We first partnered with Seattle Works in November 2017 to help us with our day of service. I was referred to Seattle Works, and the program team helped set up a project for our entire company and some of our clients at Elk Run Farm. We received great feedback from all involved and so partnered with Seattle Works again in May 2018 and went back to Elk Run Farm.
Working with Seattle Works, I was pleased with how turnkey the experience was. Seattle Works handled all the logistics and details, which in turn made the experience easy, enjoyable, and stress-free for our firm.
We do days of service as a company because volunteering together helps us deepen relationships with each other and our clients. We call volunteering our "triple win" because when we volunteer we help others, we feel good ourselves, and it makes us stronger as a team.
The issue that matters to me most at this point is to promote the value of compassion. From a birds-eye perspective, we aim to help everyone in our community. From a corporate philanthropy standpoint, our core focus area is at-risk youth.
We have a superpower, it's compassion! Compassion is a skill. We are all born with it and can strengthen through training, which in turn impacts our communities.