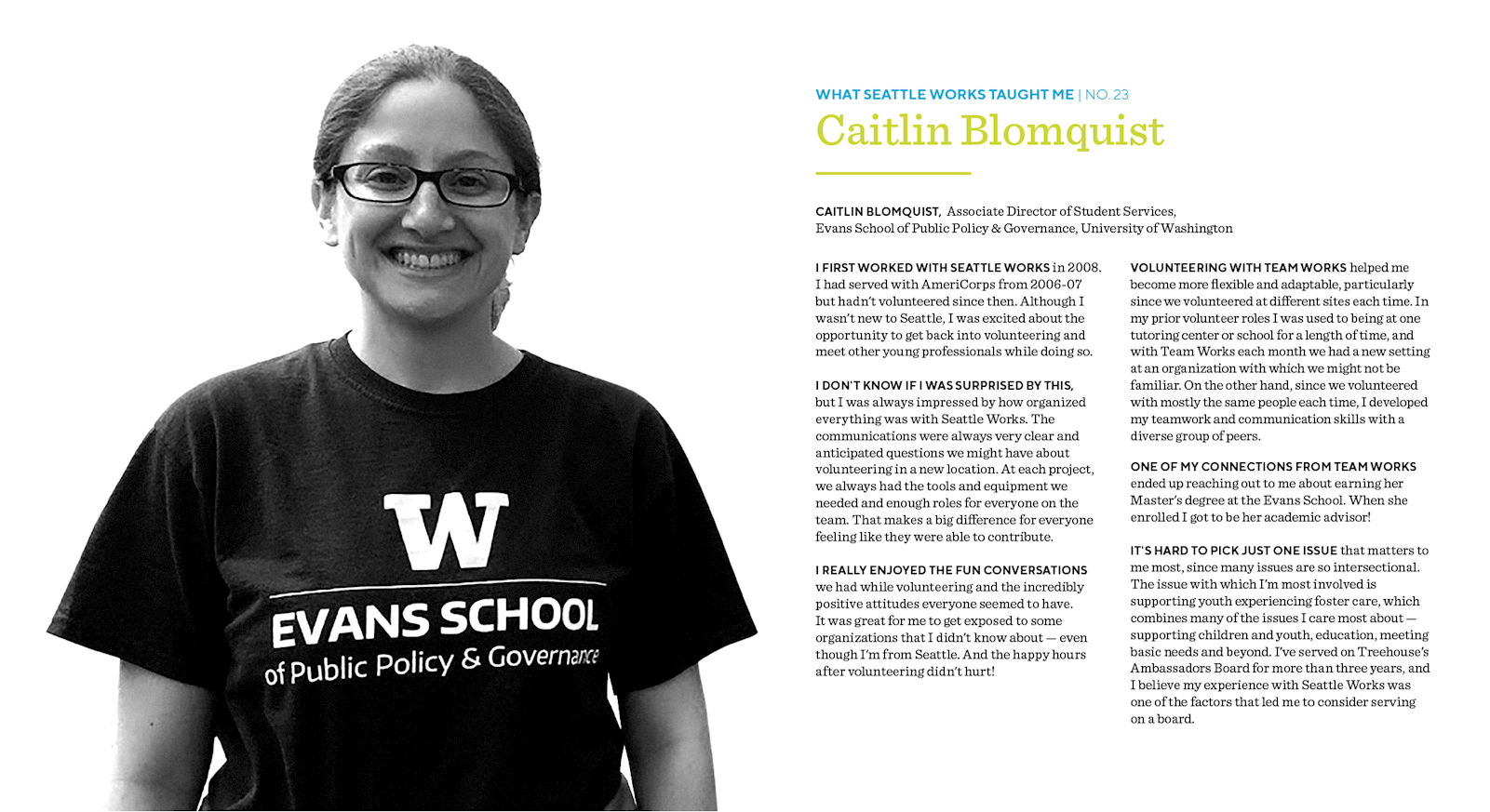 Caitlin Blomquist, Associate Director of Student Services, Evans School of Public Policy & Governance, University of Washington
I first worked with Seattle Works in 2008. I had served with AmeriCorps from 2006-07 but hadn't volunteered since then. Although I wasn't new to Seattle, I was excited about the opportunity to get back into volunteering and meet other young professionals while doing so.
I don't know if I was surprised by this, but I was always impressed by how organized everything was with Seattle Works. The communications were always very clear and anticipated questions we might have about volunteering in a new location. At each project, we always had the tools and equipment we needed and enough roles for everyone on the team. That makes a big difference for everyone feeling like they were able to contribute.
I really enjoyed the fun conversations we had while volunteering and the incredibly positive attitudes everyone seemed to have. It was great for me to get exposed to some organizations that I didn't know about – even though I'm from Seattle. And the happy hours after volunteering didn't hurt!
Volunteering with Team Works helped me become more flexible and adaptable, particularly since we volunteered at different sites each time. In my prior volunteer roles I was used to being at one tutoring center or school for a length of time, and with Team Works each month we had a new setting at an organization with which we might not be familiar. On the other hand, since we volunteered with mostly the same people each time, I developed my teamwork and communication skills with a diverse group of peers.
One of my connections from Team Works ended up reaching out to me about earning her Master's degree at the Evans School. When she enrolled I got to be her academic advisor!
It's hard to pick just one issue that matters to me most, since many issues are so intersectional. The issue with which I'm most involved is supporting youth experiencing foster care, which combines many of the issues I care most about – supporting children and youth, education, meeting basic needs and beyond. I've served on Treehouse's Ambassadors Board for more than three years, and I believe my experience with Seattle Works was one of the factors that let me to consider serving on a board.