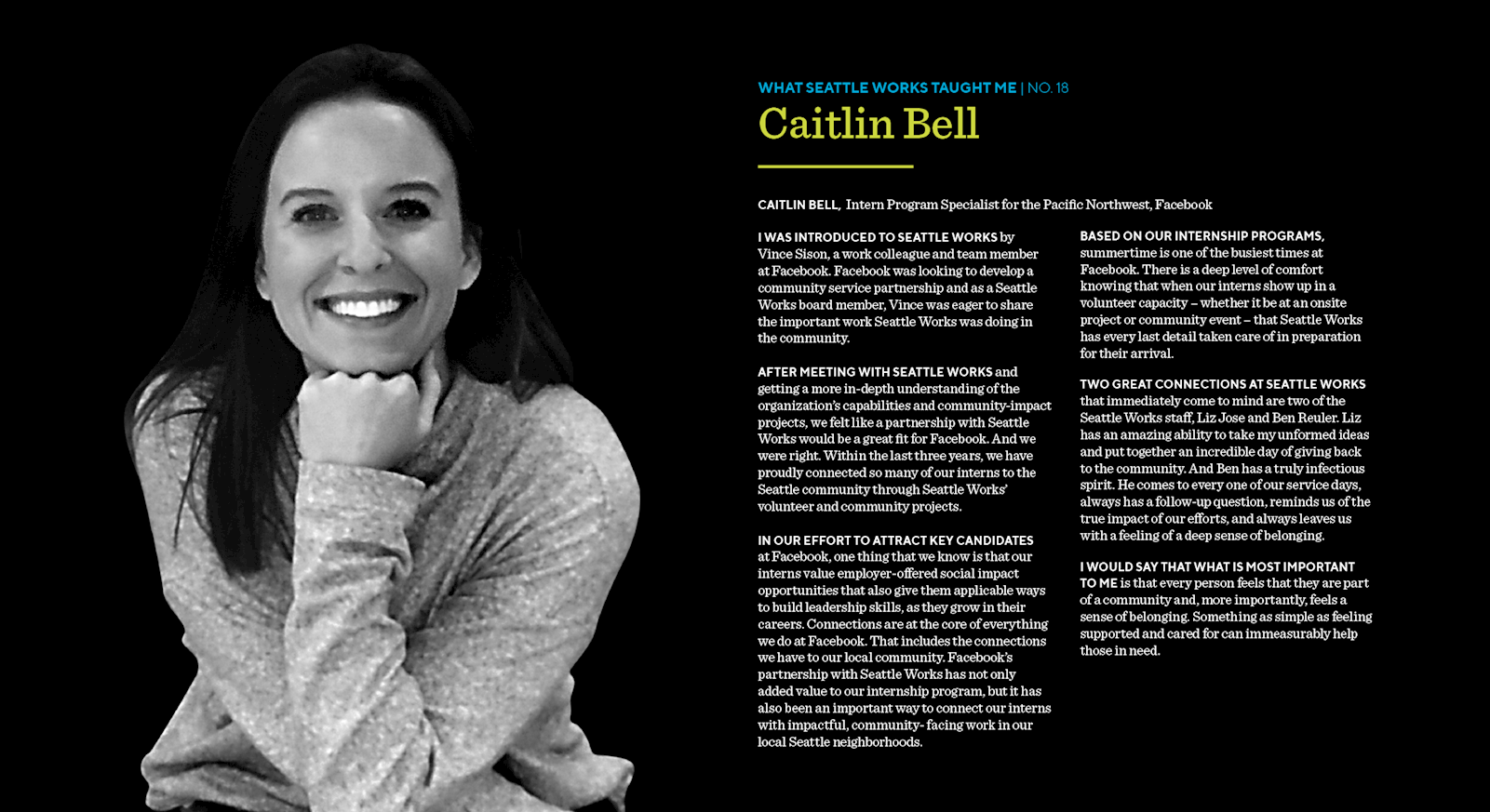 Caitlin Bell, Intern Program Specialist for the Pacific Northwest, Facebook
I was introduced to Seattle Works by Vince Sison, a work colleague and team member at Facebook. Facebook was looking to develop a community service partnership and as a Seattle Works board member, Vince was eager to share the important work Seattle Works was doing in the community.
After meeting with Seattle Works and getting a more in-depth understanding of the organization's capabilities and community-impact projects, we felt like a partnership with Seattle Works would be a great fit for Facebook. And we were right. Within the last three years, we have proudly connected so many of our interns to the Seattle community through Seattle Works' volunteer and community projects.
In our effort tot attract key candidates at Facebook, one thing that we know is that our interns value employer-offered social impact opportunities that also give them applicable ways to build leaderships kills, as they grow in their careers. Connections are at the core of everything we do at Facebook. That includes the connections we have to our local community. Facebooks' partnerships with Seattle Works has not only added value to our internship program, but It has also been an important way to connect our interns with impactful, community-facing work in our local Seattle neighborhoods.
Based on our internship programs, summertime is one of the busies times at Facebook. There is a deep level of comfort knowing that when our interns show up in a volunteer capacity- whether it be at an onsite project or community event- that Seattle Works has every last detail taken care of in preparation for their arrival.
Two great connections at Seattle Works that immediately come to mind are two of the Seattle Works staff, Liz Jose and Ben Reuler. Liz has an amazing ability to take my unformed ideas and put together an incredible day of giving back to the community. And Ben has a truly infectious spirit. He comes to every one of our service days, always has a follow-up questions, reminds us of the true impact of our efforts, and always leaves us with a feeling of a deep sense of belonging.
I would say that what is most important to me is that every person feels that they are part of a community and, more importantly feels a sense of belonging. Something as simple as feeling supported and cared for can immeasurable help those in need.