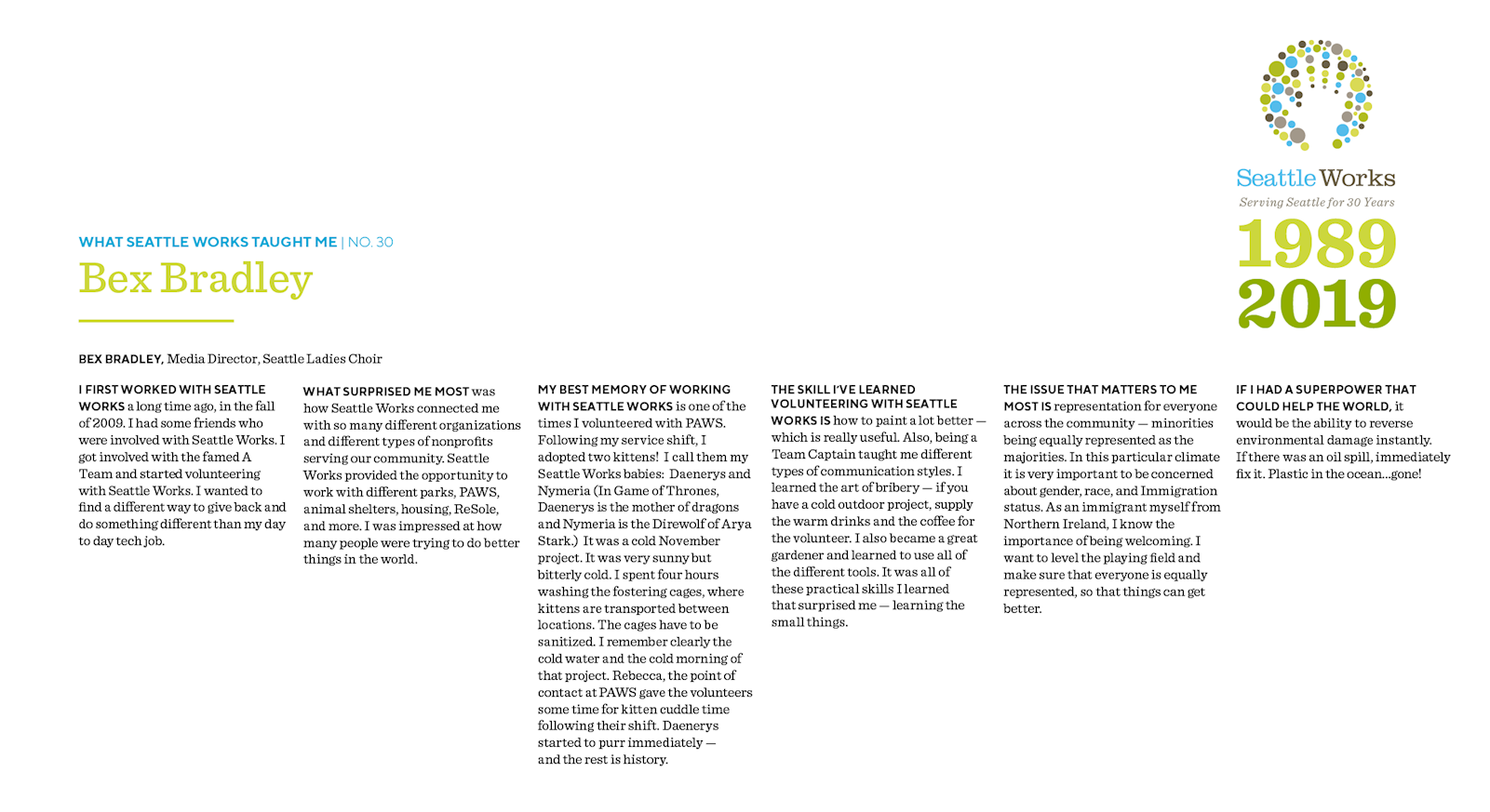 Bex Bradley, Media Director, Seattle Ladies Choir
I first worked with Seattle Works a long time ago, in the fall of 2009. I had some friends who were involved with Seattle Works. I got involved with the famed A Team and started volunteering with Seattle Works. I wanted to find a different way to give back and do something different than my day to day tech job.
What surprised me most was how Seattle Works connected me with so many different organizations and different types of nonprofits serving our community. Seattle Works provided the opportunity to work with different parks, PAWS, animal shelters, housing, ReSole, and more I was impressed at how many people were trying to do better things in the world.
My best memory of working with Seattle Works is one of the times I volunteered with PAWS. Following my service shift, I adopted two kittens! I call them my Seattle Works babies: Daenerys and Nymeria (In Game of Thrones, Daenerys is the mother of dragons and Nymeria is the Direwolf of Arya Stark.) It was a cold November project. It was very sunny but bitterly cold. I spent four hours washing the fostering cages, where kittens are transported between locations. The cages have to be sanitized. I remember clearly the cold water and the cold morning of that project. Rebecca, the point of contact at PAWS gave the volunteers some time for kitten cuddle time following their shift. Daenerys started to purr immediately – and the rest is history.
The skill I've learned volunteering with Seattle Works is how to paint a lot better – which is really useful. Also, being a Team Captain taught me different types of communication styles. I learned the art of bribery – if you have a cold outdoor project, supply the warm drinks and the coffee for the volunteer. I also become a great gardener and learned to use all of the different tools. It was all of these practical skills I learned that surprised me – learning the small things.
The issue that matters to me most is representation for everyone across the community – minorities being equally represented at the majorities. In this particular climate it is very important to be concerns about gender, race, and Immigration status. As an immigrant myself from Northern Ireland, I know the importance of being welcoming. I want to level the playing field and make sure that everyone is equally represented, so that things can get better.
If I had a superpower that could help the world, it would be the ability to reverse environmental damage instantly. If there was an oil spill, immediately fix it. Plastic in the ocean…gone!