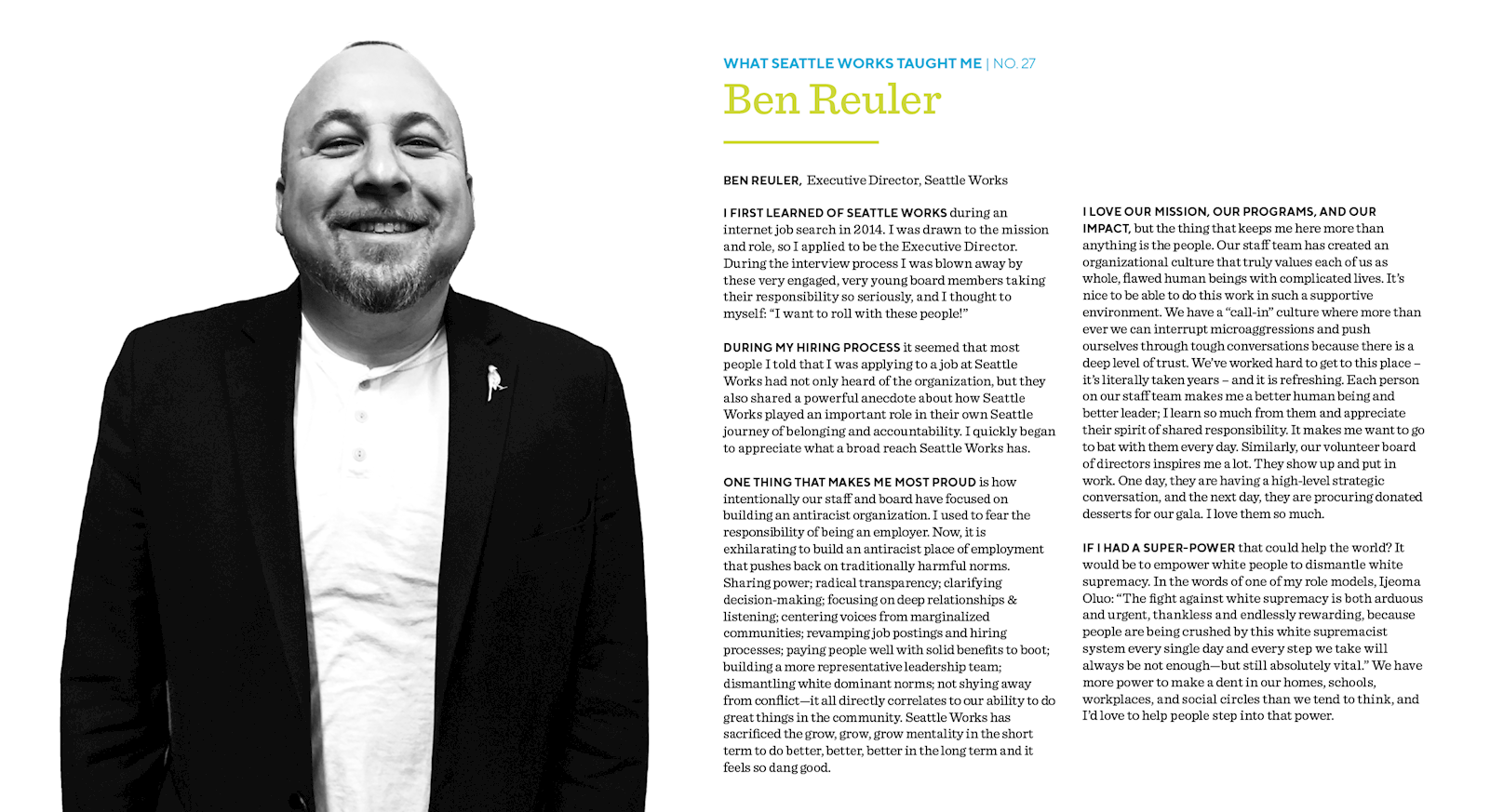 Ben Reuler, Executive Director, Seattle Works
I first learned of Seattle Works during an internet job search in 2014. I was drawn to the mission and role, so I applied to be the Executive Director. During the interview process I was blown away by these very engaged, very young board members taking their responsibility so seriously and I thought to myself: "I want to roll with these people!"
During my hiring process it seemed that most people I told that I was applying to a job at Seattle Works had not only heard of the organization, they also shared a powerful anecdote about how Seattle Works played an important role in their own Seattle journey of belonging and accountability. I quickly began to appreciate what a broad reach Seattle Works has.
One thing that makes me most proud is how intentionally our staff and board have focused on building an antiracist organization. I used to fear the responsibility of being an employer. Now, it is exhilarating to build an antiracist place of employment that pushes back on traditionally harmful norms. Sharing power; radical transparency; clarifying decision-making; focusing on deep relationships & listening; centering voices from marginalized communities; revamping job postings and hiring processes; paying people well with solid benefits to boot; building a more representative leadership team; dismantling white dominant norms; not shying away from conflict… it all directly correlates to our ability to do great things in the community. Seattle Works has sacrificed the grow, grow, grow mentality in the short term to do better, better, better in the long term and it feels so dang good.
I love our mission, our programs, and our impact, but the thing that keeps me here more than anything is the people. Our staff team has created an organizational culture that truly values each of us as whole, flawed human beings with complicated lives. It's nice to be able to do this work in such a supportive environment. We have a "call-in" culture where more than ever we can interrupt microaggressions and push ourselves through tough conversations because there is a deep level of trust. We've worked hard to get to this place – it's literally taken years – and it is refreshing. Each person on our staff team makes me a better human being and better leader; I learn so much from them and appreciate their spirit of shared responsibility. It makes me want to go bat with them every day. Similarly, our volunteer board of directors inspires me a lot. They show up and put in work. One day they're having a high-level strategic conversation and the next day they are procuring donated desserts for our gala. I love them so much.
If I had a super-power that could help the world? It would be to empower white people to dismantle white supremacy. In the words of one of my role models, Ijeoma Oluo: "The fight against white supremacy is both arduous and urgent, thankless and endlessly rewarding, because people are being crushed by this white supremacist system every single day and every step we take will always be not enough—but still absolutely vital." We have more power to make a dent in our homes, schools, workplaces, and social circles than we tend to think, and I'd love to help people step into that power.