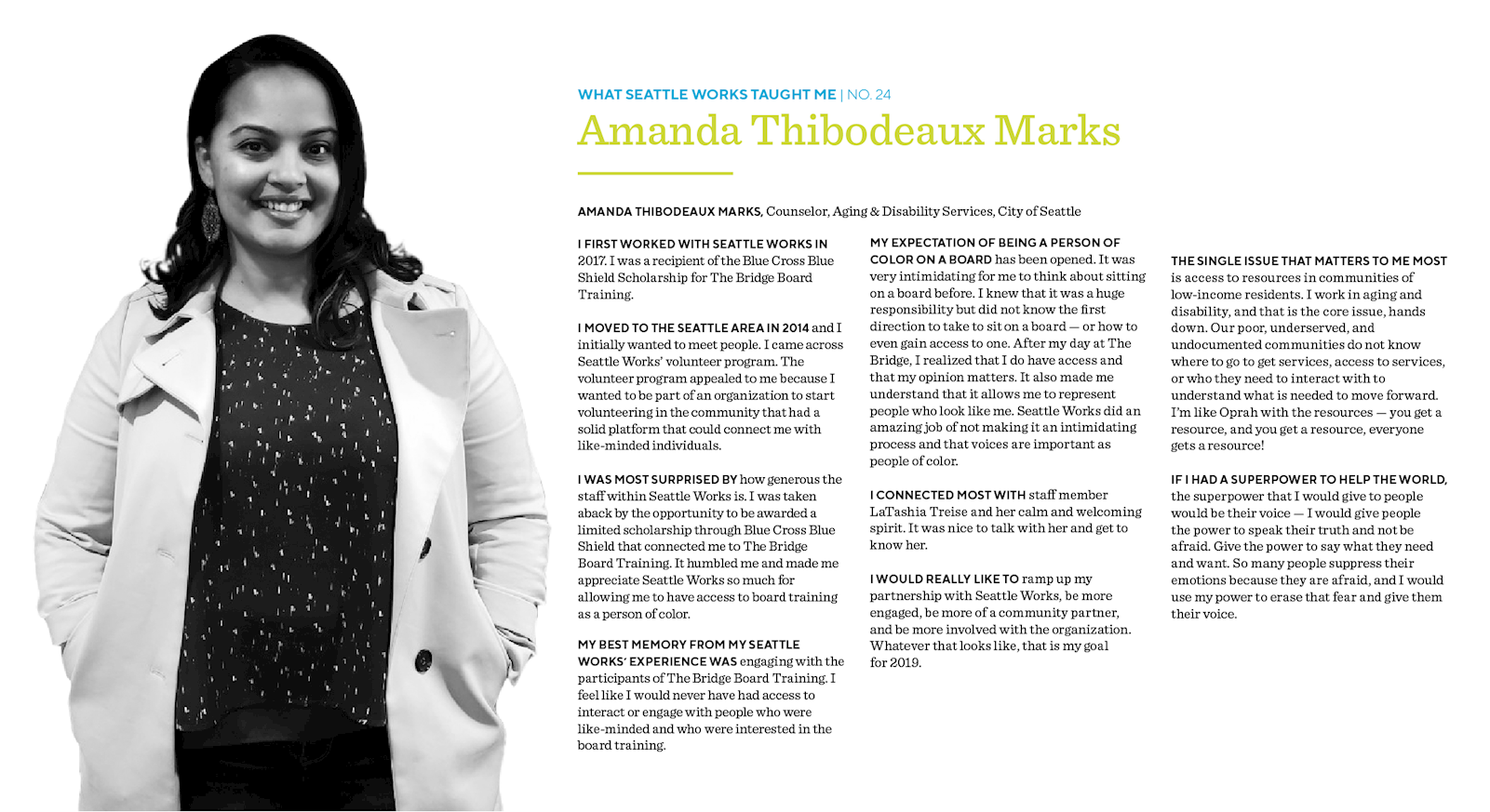 Amanda Thibodeaux Marks, Counselor, Aging & Disability Services, City of Seattle
I first worked with Seattle Works in 2017. I was a recipient of the Blue Cross Blue Shield Scholarship for The Bridge Board Training.
I moved to the Seattle area in 2014 and I initially wanted to meet people. I came across Seattle Works' volunteer program. The volunteer program appealed to me because I wanted to be part of an organization to start volunteering in the community that had a solid platform that could connect me with like-minded individuals.
I was most surprised by how generous the staff within Seattle Works is. I was taken aback by the opportunity to be awarded a limited scholarship through Blue Cross Blue Shield that connected me to The Bridge Board training. It humbled me and made me appreciate Seattle Works for allowing me to have access to board training as a person of color.
My best memory from my Seattle Works experience was engaging with the participants of The Bridge Board Training. I feel like I would never have had access to interact or engage with people who were like-minded and who were interested in the board training.
My expectation of being a person of color on a board has been opened. It was very intimidating for me to think about sitting on a board before. I knew that it was a huge responsibility but did not know the first direction to take to sit on a board – or how to even gain access to one. After my day at The Bridge, I realized that I do have access and that my opinion matters. It also made me understand that it allows me to represent people who like me. Seattle Works did an amazing job of not making it an intimidating process and that voices are important as people of color.
I connected most with staff member LaTashia Treise and her calm and welcoming spirit. It was nice to talk to with her and get to know her.
I would really like to ramp up my partnership with Seattle Works, be more engaged, be more of a community partner, and be more involved with the organization. Whatever that looks like, that is my goal for 2019.
The single issue that matters to me most is access to resources in communities of low-income residents. I work in aging and disability, and that is the core issue, hands down. Our poor, underserved, and undocumented communities do not know where to go to get services, access to services, or who they need to interact with to understand what is needed to move forward. I'm like Oprah with the resources – you get a resource, and you get a resource, everyone gets a resource!
If I had a superpower to help the world, the superpower that I would give to people would be their voice – I would give people the power to speak their truth and not be afraid. Give the power to say what they need and want. So many people suppress their emotions because they are afraid, and I would use my power to erase that fear and give them their voice.