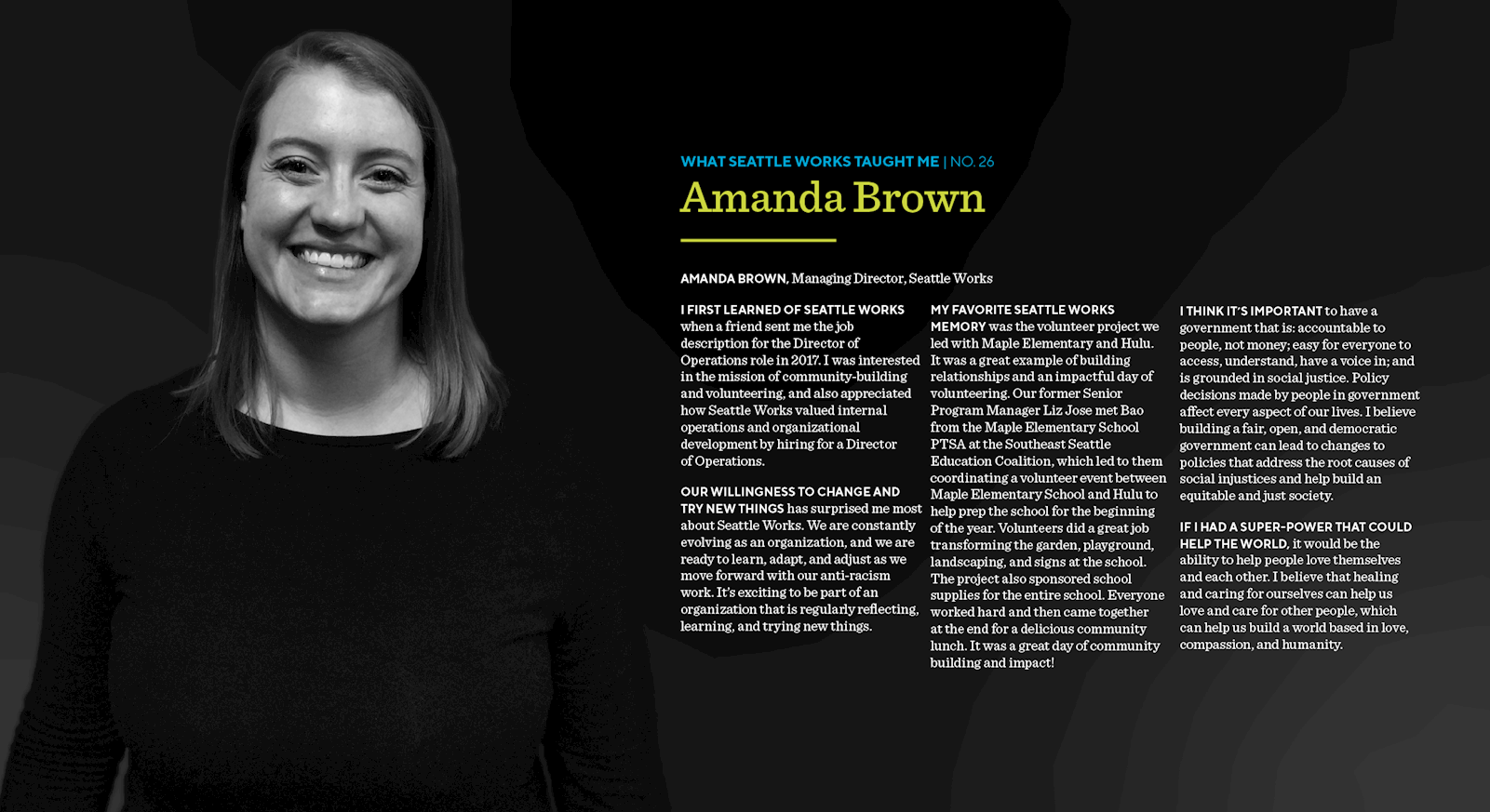 Amanda Brown, Managing Director, Seattle Works
I first learned of Seattle Works when a friend sent me the job description for the Director of Operations role in 2017. I was interested in the mission of community building and volunteering, and also appreciated Seattle Works valuing internal operations and organizational development by hiring for a Director of Operations.
Our willingness to change and try new things has surprised me most about Seattle Works. We are constantly evolving as an organization, and we are ready to learn, adapt, adjust as we move forward with our anti-racism work. It's exciting to be part of an organization that is regularly reflecting, learning, and trying new things.
My favorite Seattle Works memory was the volunteer project we led with Maple Elementary and Hulu. It was a great example of building relationships and an impactful day of volunteering. Our former Senior Program Manager Liz Jose met Bao from the Maple Elementary School PTSA at the Southeast Seattle Education Coalition, which led to them coordinating a volunteer event between Maple Elementary School and Hulu to help prep the school for the beginning of the year. Volunteers did a great job transforming the garden, playground, landscaping, and signs at the school. The project also sponsored school supplies for the entire school. Everyone worked hard and then came together at the end for a delicious community lunch. It was a great day of community building and impact!
I think it's important to have a government that is: accountable to people not money; is easy for everyone to access, understand, and have a voice in; and is grounded in social justice. Policy decisions made by people in government affect every aspect of our lives. I believe building a fair, open, and democratic government can lead to changes to policies that address the root causes of social injustices and help build an equitable and just society.
If I had a super-power that could help the world, it would be the ability to help people love themselves and each other. I believe that healing and caring for ourselves can help us love and care for other people, which can help us build a world based in love, compassion, and humanity.