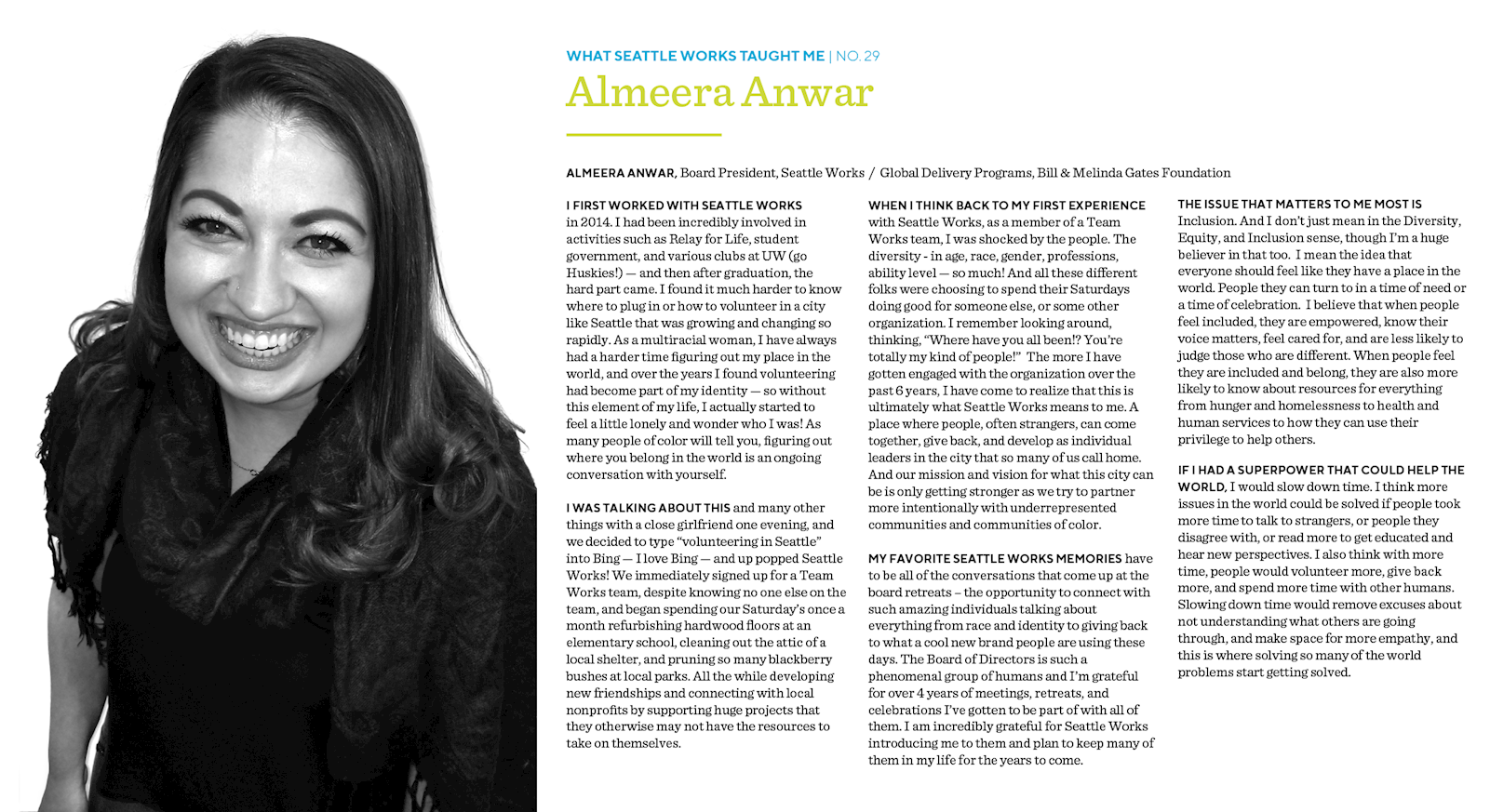 Almeera Anwar, Board President, Seattle Works / Global Delivery Programs, Bill & Melinda Gates Foundation
I first worked with Seattle Works in 2014. I have been incredibly involved in activities such as Relay for Life, student government, and various clubs at UW (go Huskies!) – and then after graduation, the hard part came. I found it much harder to know where to plug in or how to volunteer in a city like Seattle that was growing and changing so rapidly. As a multiracial woman, I have always had a harder time figuring out my place in the world, and over the years I found volunteering had become part of my identity – so without this element in my life, I actually started to feel a little lonely and wonder who I was! As many people of color will tell you, figuring out where you belong in the world is an ongoing conversation with yourself.
I was talking about this and many other things with a close girlfriend one evening and we decided to type "volunteering in Seattle" into Bing – I love Bing – and up popped Seattle Works! We immediately signed up for a Team Works team, despite knowing no one else on the team, and began spending our Saturdays' once a month refurbishing hardwood floors at an elementary school, cleaning out the attic of a local shelter, and pruning so many blackberry bushes at local parks. All the while developing new friendships and connect with local nonprofits by supporting huge projects that they otherwise may not have the resources to take on themselves.
When I think back to my first experience with Seattle Works, as a member of a Team Works team, I was shocked by the people. The diversity – in age, race, gender, professions, ability level – so much! And all these different folks were choosing to spend their Saturdays doing good for someone else, or some other organization. I remember looking around, thinking, "Where have you all been!? You're totally my kind of people!" The more I have gotten engaged with the organization over the past 6 years, I have come to realize that this is ultimately what Seattle Works means to me. A place where people, often strangers, can come together, give back, and develop as individual leaders in the city that so many of us call home. And our mission and vision for what this city can be is only getting stronger as we try to partner more intentionally with underrepresented communities and communities of color.
My favorite Seattle Works memories have to be all of the conversations that come up at the board retreats – the opportunity to connect with such amazing individuals talking about everything from race and identity to giving back to what a cool new brand people are using these days. The Board of Directors is such a phenomenal group of humans and I'm grateful for over 4 years of meetings, retreats, and celebrations I've gotten to be part of with all of them. I am incredibly grateful for Seattle Works introducing me to them and plan to keep many of them in my life for the years to come.
The issue that matters to me most is Inclusion. And I don't just mean in the Diversity, Equity, and Inclusion sense, though I'm a huge believer in that too. I mean the idea that everyone should feel like they have a place in the world. People they can turn to in a time of need or a time of celebration. I believe that when people feel included, they are empowered, know their voice matters, feel cared for, and are less likely to judge those who are different. When people feel they are included and belong, they are also more likely to know about resources for everything from hunger and homelessness to health and human services to how they can use their privilege to help others.
If I had a superpower that could help the world, I would slow down time. I think more issues in the world could be solved if people took more time to talk to strangers, or people they disagree with, or read more to get educated and hear new perspectives. I also think with more time, people would volunteer more, give back more, and spend more time with other humans. Slowing down time would remove excuses about not understanding what others are going through, and make space for more empathy, and this is where solving so many of the world problems start getting solved.