Do More With Seattle Works!
Seattle Works is happy to help nonprofits, schools, community groups, religious, civic, and government organizations find volunteers for their events and activities. We are unable to send volunteers to events managed by for-profit companies.
---
Board Training and Matching
The Bridge: Board Training is a one day event designed to demystify board service by providing participants with the tools and knowledge to be an effective board member. Invite your board to attend, or work with us to recruit new board members from our great group of Bridge: Board Training graduates!
Post your board openings for us to share with our trained Bridge grads. $25 for 4 months. If you have a board opening you'd like us to include on the new page, sign up here!
BOARD NETWORKING HAPPY HOUR
Once a year Seattle Works, Leadership Tomorrow, Bill & Melinda Gates Foundation, ArtsFund, and United Way of King County present Board Networking Happy Hour! Each year, our programs train hundreds of individuals in the essentials of nonprofit and public board service. We can help your organization connect with these talented, enthusiastic volunteers and spread the word about your current board openings. Registration for October 2018 is not yet open. Please check back in August. Invited organizations will be asked to pay a $25 registration fee.
Request Seattle Works Volunteers
SUBMIT A PROJECT FOR SEATTLE WORKS DAY
June 23, 2018 is Seattle Works Day! We send over 1000 people to 50+ sites in Seattle and then we all get together for good food and good drink at Pyramid Ale House for the after-party. Project Application is OPEN! Click here to request a team. Deadline to submit is March 23, 2018. If you have questions, or want help brainstoming how to best way to use a SWD team, email us!

GET ON OUR VOLUNTEER CALENDAR


Our volunteer calendar recruits volunteers for weeknight and weekend projects. If you'd like to promote your project to Seattle Works' network of volunteers, fill out the online application. Please submit 3-4 weeks prior to a project.
Submitting an application is not a guarantee that your project will be scheduled. Unfortunately, we cannot recruit volunteers for auctions or fundraising events.
REQUEST A VOLUNTEER TEAM


Our Team Works teams volunteer together one Saturday a month for four months with a dedicated Team Captain. We accept project applications for Team Works before each round, in August and January. If you'd like to submit a project the upcoming Team Works round, email us.
LONG TERM VOLUNTEER OPPORTUNITIES


While our programs build community through team-based volunteering, we also recognize that our partner organizations often have a need for longer-term, individual volunteers. Our ongoing opportunity page is the best place to recruit for these committed volunteers. To submit a posting, fill out our online application form.

Want to post an opportunity? Fill out this form.
Corporate Partnerships
We help connect companies who want to make a difference with nonprofits that want to complete big projects! Materials used in Corporate Partnership projects are paid for by the company, so not only is there a grant of person-power to help get things done, but also a grant of materials. Let Liz know what projects you are dreaming of so she can make a partner match! Email us.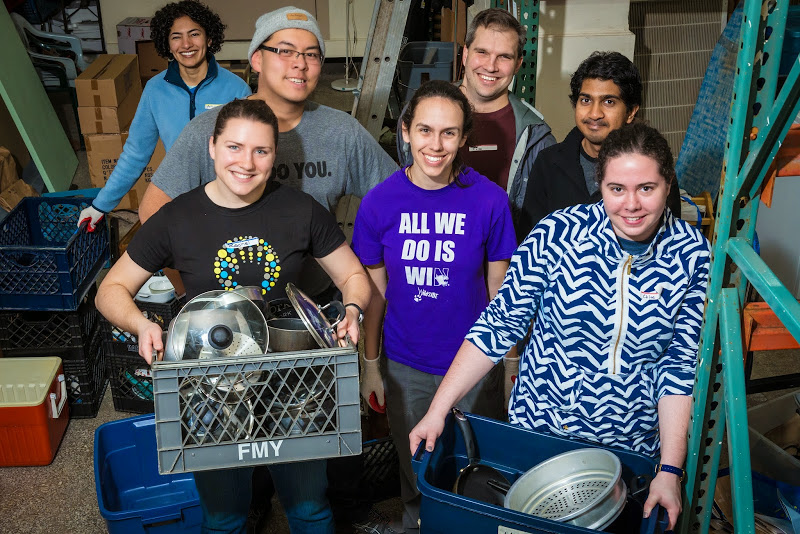 Seattle Works is lucky to work with the most energetic, passionate volunteers in Seattle! If you're interested in working with us, please take a moment to read our Project Host Terms of Engagement.