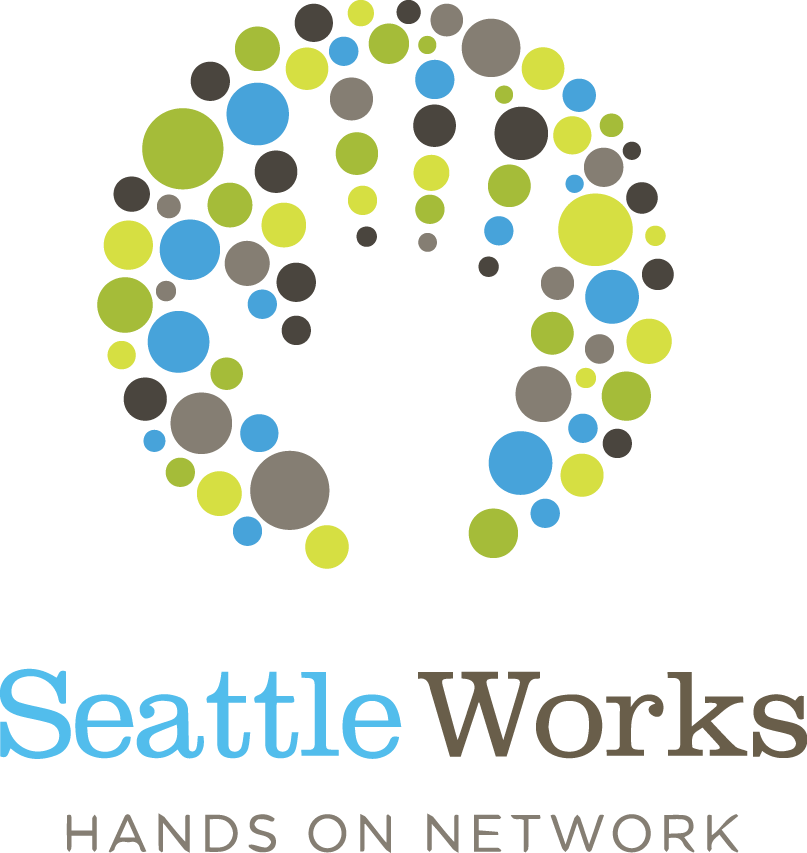 Board Expectations & Responsibilities (Click here to download as PDF)
Seattle Works connects volunteers, develops leaders, and builds community. We believe that the energy, diversity, and dedication of Seattle's emerging leaders can be a tremendous, positive force in the community. Our vision is a thriving community of actively engaged individuals. Volunteering with Seattle Works helps individuals establish or deepen roots in the community and serve as leaders; our nonprofit partners connect with new volunteers and get important projects accomplished; the nonprofits also tap into a pool of talented, intelligent, and committed board members. Partnering with Seattle Works also helps corporations attract and retain talent by providing meaningful opportunities for employees to volunteer, hone their skills, and build strong teams. As Seattle Works lays the foundation for the next 30 years, we are seeking outstanding board members to help shepherd our impact in Seattle.
General Expectations
Know and evaluate the organization's mission, goals, policies, programs, services, strengths, and needs.

Serve in leadership positions and undertake special assignments willingly and enthusiastically.

Bring goodwill and a sense of humor to all board activities.

Enhance the organization's public standing.

Champion our value of building a diverse, accountable, and welcoming community with our corporate and community partners as well as internally within the board and staff.

Support the organization's financial health through your personal commitment and by supporting fundraising activities such as our annual campaign and gala.

Utilize personal and professional networks to promote or benefit Seattle Works.
Terms
Serve a

minimum of three years

, and up to six years. Following a three-year term, board members may renew for a second three-year term or for up to three one-year terms.
Meetings and Events
Attend, prepare for, and participate in board meetings. Board meetings are typically the third Wednesday of the month from 6 to 8pm in Seattle and are not available to attend virtually or over telephone conference.

Attend, prepare for, and participate in at least one Committee. Committees include, but are not limited to: Board Development, Finance, Resource Development, Marketing + Communications and committees related to Seattle Works programs and events. Committee schedules and responsibilities vary, and are typically on weeknight evenings at various locations in Seattle. Some committee meetings are available to attend virtually or via telephone conference.

Actively engage and meet with your Board Buddy and Cohort in addition to board and committee meetings.

Attend annual overnight retreat, which is typically in the Spring.

Serve as a positive Seattle Works ambassador at major programs and events and online via social media.

Notify the Executive Director in advance of meetings and events when unable to attend. Consistent absences, particularly without prior notification, may lead to removal from the board.

Ask timely and substantive questions at board and committee meetings consistent with your conscience and convictions, while supporting the majority decision on issues decided by the board or committee.

Maintain confidentiality of the board's executive sessions, and speak for the board or the organization only when authorized to do so.
Fiscal Responsibilities
Make a personally significant financial contribution. Board members should consider Seattle Works their top philanthropic priority.

Seattle Works does not want dues to be a barrier to board participation. Therefore, we have a suggested amount of $300 for annual board dues and ask board members to pay this total, if feasible. Payment plans are also available (e.g. monthly, quarterly). These dues cover expenses for food and lodging at board meetings, retreats, and other gatherings.

Implement fundraising strategies through personal influence with others in three activities of choice. Examples include, but are not limited to, organizing a Seattle Works Day Team, hosting/organizing a table at Swank, hosting a personal event, auction procurement, recruiting corporate sponsors, participating in the organization's annual fundraising campaign, and serving on the Resource Development Committee.

Read and understand the organization's financial statements and exercise prudence when making budgetary decisions; approve annual operating budget.
Organizational Management
Select the Executive Director and annually assess the Executive Director's performance.

Work with and assist the Executive Director to promote and encourage effective organizational planning.
Avoiding Conflicts
Read and agree to abide by Seattle Works' conflict of interest policy.

Maintain independence and objectivity when discussing and voting on board decisions.

Never accept (or offer) financial favors or gifts from (or to) anyone who does business with the organization.

Ask questions and raise concerns as they arise either in group board discussion or privately with Executive Committee member(s) or the Executive Director.
Board Characteristics
Ability to: listen, analyze, think clearly and creatively, work well with people individually and in a group, stay organized and remain detail-oriented.

Willingness to: prepare for and attend board and committee meetings, ask questions, take responsibility and follow through on a given assignment, contribute personal and financial resources in a generous way according to circumstances, open doors in the community, evaluate oneself, be inspired, be authentic, share visionary ideas and new approaches, demonstrate personal and professional skills, educate oneself on systemic injustice and oppression, and engage in difficult but necessary conversations regarding diversity, inclusion, and belonging.

Possess: honesty, sensitivity to and tolerance of differing views, a friendly, responsive, and patient approach, community-building skills, personal integrity, accountability, a developed sense of values, concern for SW's development, and a sense of humor.
Please contact Vince Sison, Chair of Board Development, to learn more: vince.sison@gmail.com.