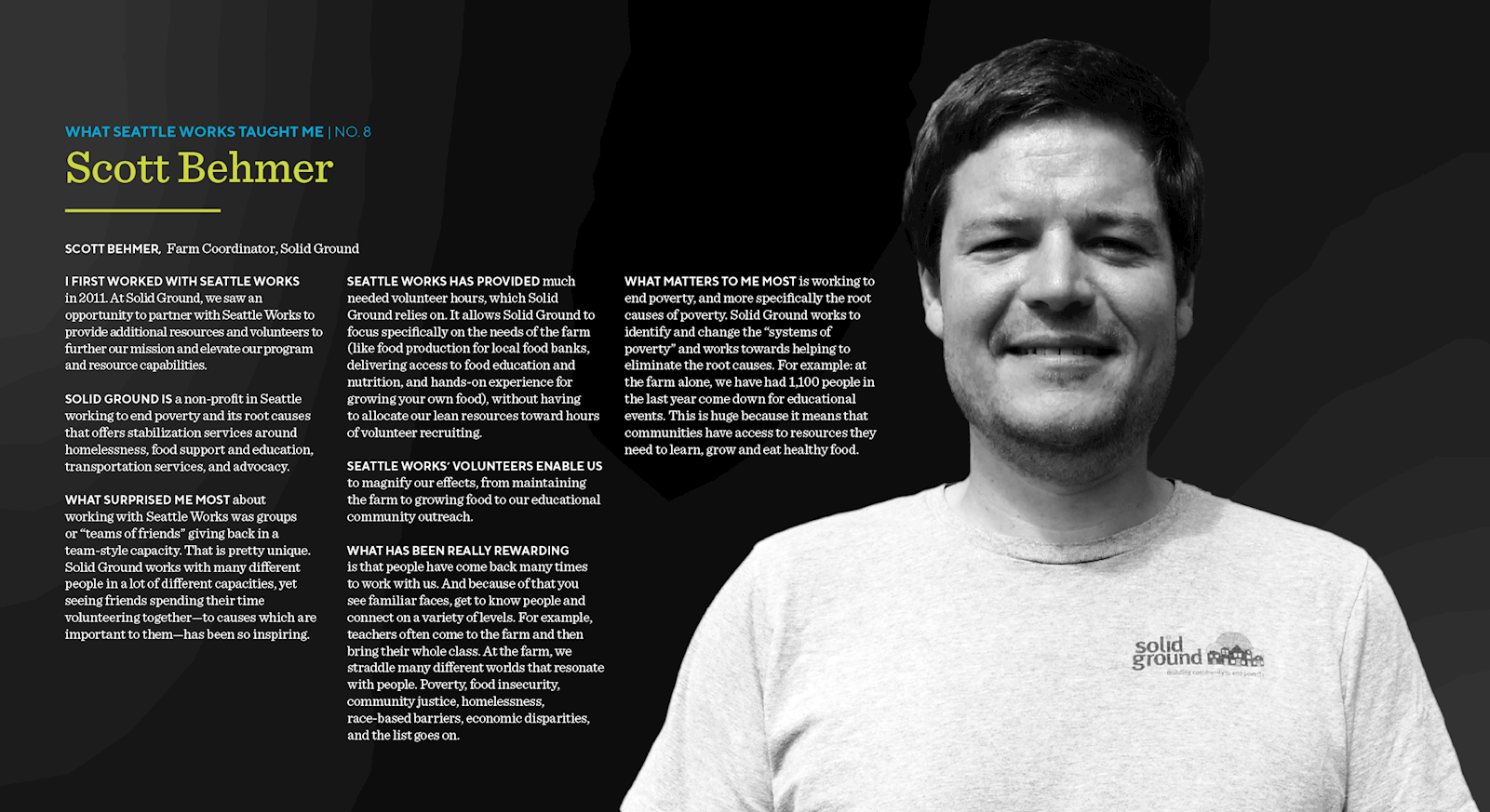 Scott Behmer, Farm Coordinator, Solid Ground
I first worked with Seattle Works in 2011. At Solid Ground, we saw an opportunity to partner with Seattle Works to provide additional resources and volunteers to further our mission and elevate our program and resource capabilities.
Solid Ground is a non-profit in Seattle working to end poverty and its root causes that offers stabilization services around homelessness, food support and education, transportation services, and advocacy.
What surprised me most about working with Seattle Works was groups or "teams of friends" giving back in a team-style capacity. That is pretty unique. Solid Ground works with many different people in a lot of different capacities, yet seeing friends spending their time volunteering together—to causes which are important to them—has been so inspiring.
Seattle Works has provided much needed volunteer hours, which Solid Ground relies on. It allows Solid Ground to focus specifically on the needs of the farm (like food production for local food banks, delivering access to food education and nutrition, and hands-on experience for growing your own food), without having to allocate our lean resources toward hours of volunteer recruiting.
Seattle Works' volunteers enable us to magnify our effects, from maintaining the farm to growing food to our educational community outreach.
What has been really rewarding is that people have come back many times to work with us. And because of that you see familiar faces, get to know people and connect on a variety of levels. For example, teachers often come to the farm and then bring their whole class. At the farm, we straddle many different worlds that resonate with people. Poverty, food insecurity, community justice, homelessness, race-based barriers, economic disparities, and the list goes on.
What matters to me most is working to end poverty, and more specifically the root causes of poverty. Solid Ground works to identify and change the "systems of poverty" and works towards helping to eliminate the root causes. For example: at the farm alone, we have had 1,100 people in the last year come down for educational events. This is huge because it means that communities have access to resources they need to learn, grow, and eat healthy food.