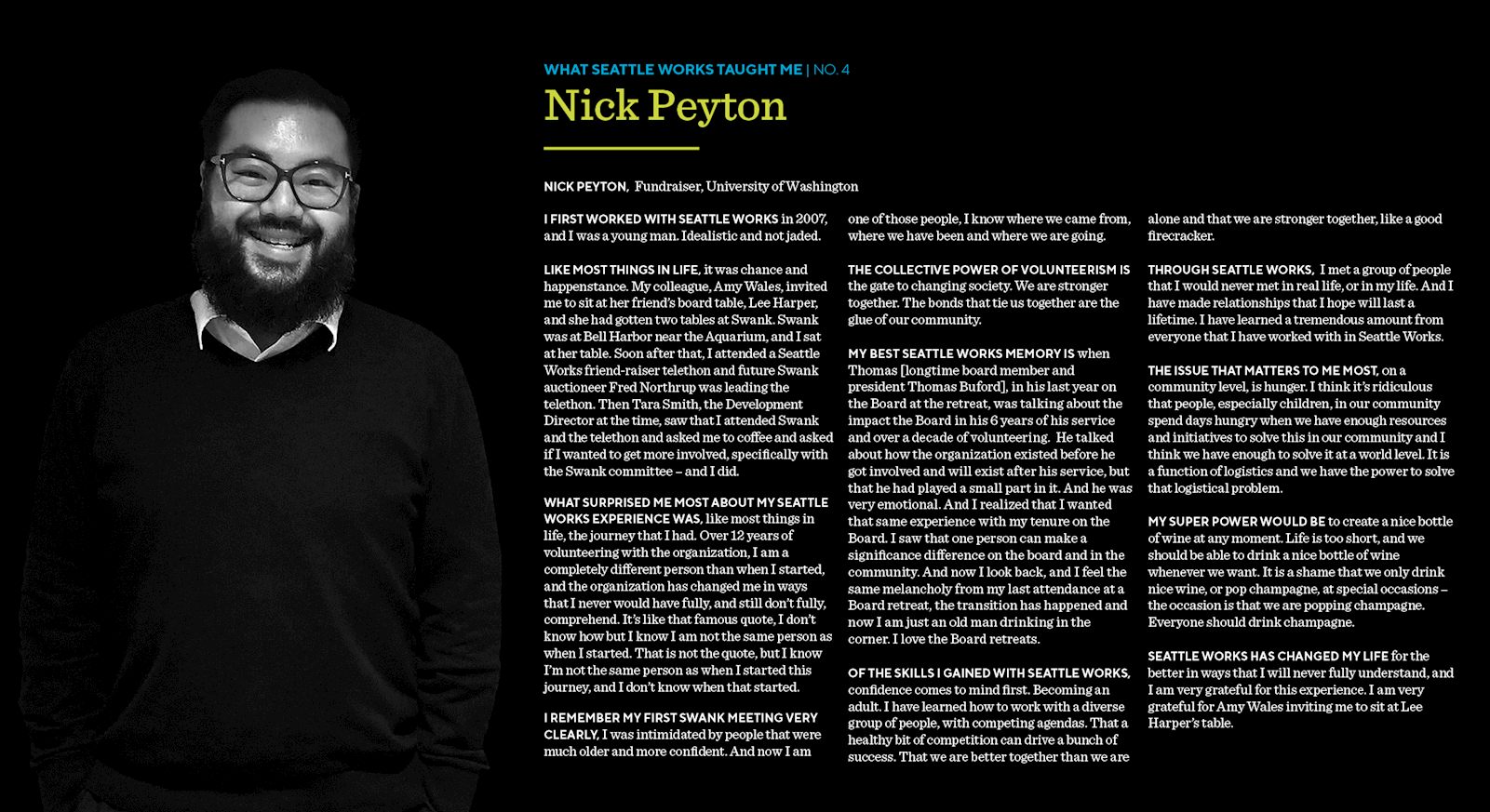 Nick Peyton, Fundraiser, University of Washington
I first worked with Seattle Works in 2007, and I was a young man. Idealistic and not jaded.
Like most things in life, it was chance and happenstance. My colleague, Amy Wales, invited me to sit at her friend's board table, Lee Harper, and she had gotten two tables at Swank. Swank was at Bell Harbor near the Aquarium, and I sat at her table. Soon after that, I attended a Seattle Works friend-raiser telethon and future Swank auctioneer Fred Northrup was leading the telethon. Then Tara Smith, the Development Director at the time, saw that I attended Swank and the telethon and asked me to coffee and asked if I wanted to get more involved, specifically with the Swank committee - and I did.
What surprised me most about my Seattle Works experience was, like most things in life, that journey that I had. Over 12 years of volunteering with the organization has changed me in ways that I never would have fully, and still don't fully, comprehend. It's like the famous quote, I don't know how but I know I am not the same person as when I started. That is not the quote, but I know I'm not the same person as when I started this journey, and I don't know when that started.
I remember my first Swank meeting very clearly, I was intimidated by people that were much older amd more confident. And now I am one of those people, I know where we came from, where we have been and where we are going.
The collective power of volunteerism is the gate to changing society. We are stronger together. The bonds that tie us together are the glue of our community.
My best Seattle Works memory is when Thomas [longtime board member and president Thomas Buford], in his last year on the Board at the retreat, was talking about the impact the Board in his 6 years of service and over a decade of volunteering. He talked about how the organization existed before he got involved and will exist after his service, but that he had played a small part in it. And he was very emotional. And I realized that I wanted that same experience with my tenure on the Board. I saw that one person can make a significant difference on the board and in the community. And now that I look back, and I feel the same melancholy from my last attendance at a board retreat, the transition has happened and now I am just an old man drinking in the corner (coffee). I love the Board retreats.
Of the skills I ganed with Seattle Works, confidence comes to mind first. Becoming an adult. I have learned how to work with a diverse group of people, with competing agendas. That a healthy bit of cooperation can drive a bunch of success. That we are better together than we are alone and that we are stronger together, like a good firecracker.
Through Seattle Works, I met a group of people that I would never have met in real life, or in my life. And I have made relationships that I hope will last a lifetime. I have learned a tremendous amount from everyone that I have worked with in Seattle Works.
The issue that matters to me most, on a community level, is hunger. I think it's ridiculous that people, especially children, in our community spend days hungry when we have enough resources and intiatives to solve this in our community and I think we have enough to solve it at a world level. It is a function of logistics and we have the power to solve that logistical problem.
My super power would be to create a nice bottle of wine at any moment. Life is too short, and we should be able to drink a nice bottle of wine whenever we want. It is a shame that we only drink nice wine, or pop champagne, at special occasions - the occasion is that we are popping champagne. Everyone should drink champagne.
Seattle Works has changed my life for the better in ways that I will never fully understand, and I am very grateful for this experience. I am very grateful for this experience. I am very grateful for Amy Wales inviting me to sit at Lee Harper's table.