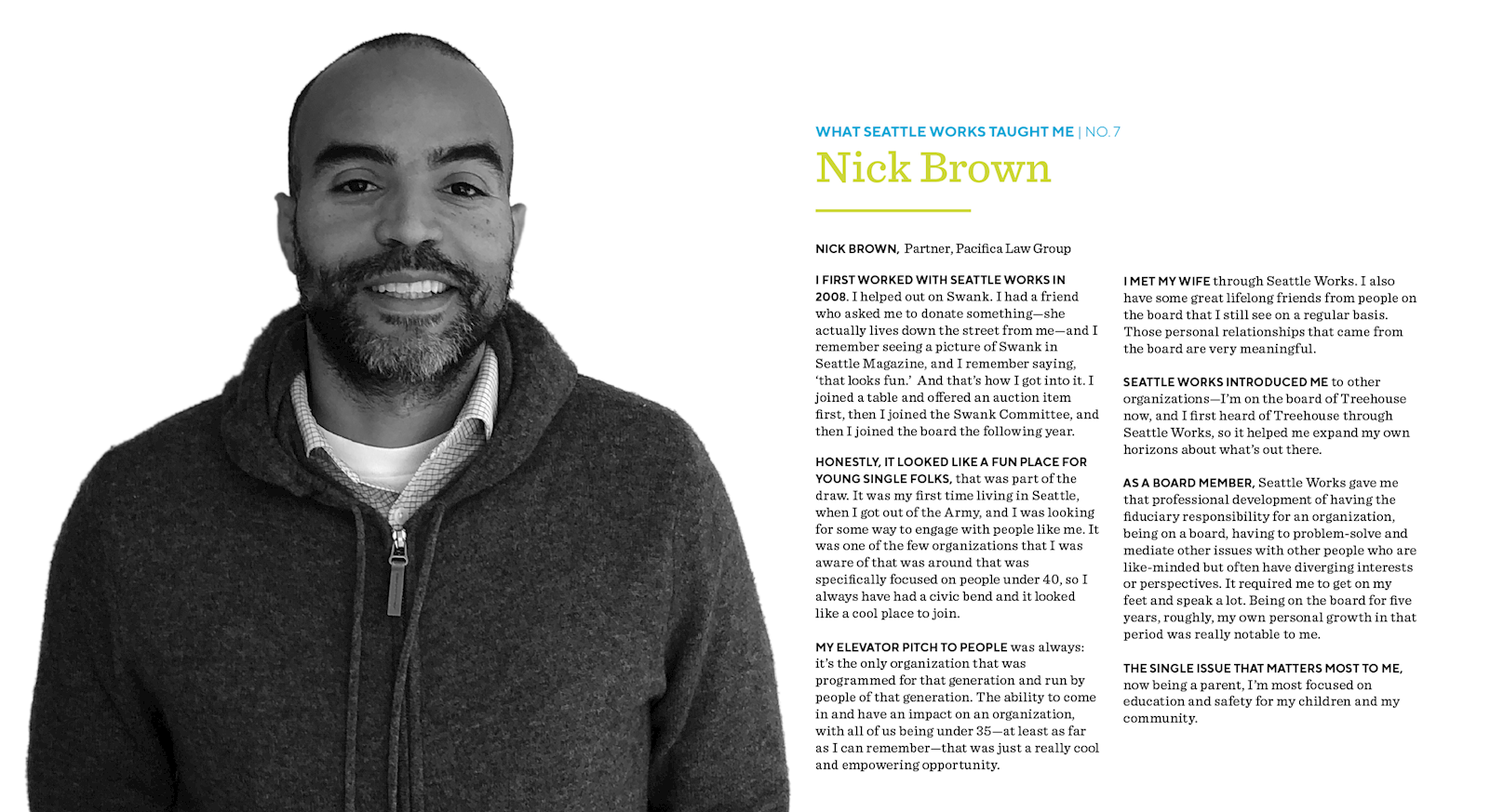 Nick Brown, Partner, Pacifica Law Group
I first worked with Seattle Works in 2008. I helped out on Swank. I had a friend who asked me to donate something—she actually lives down the street from me—and I remember seeing a picture of Swank in Seattle Magazine, and I remember saying 'that looks fun.' And that's how I got into it. I joined a table and offered an auction item first, then I joined the Swank Committee, and then I joined the board the following year.
Honestly, it looked like a fun place for young single folks, that was part of the draw. It was my first time living in Seattle, when I got out of the Army, and I was looking for some way to engage with people like me. It was one of the few organizations that I was aware of that was around that was specifically focused on people under 40, so I always have a had a civic bend and it looked like a cool place to join.
My elevator pitch to people was always: it's the only organization that was programmed for that generation and run by people of that generation. The ability to come in and have an impact on an organizations, with all of us being under 35—at least as far as I can remember—that was just a really cool and empowering opportunity.
I met my wife through Seattle Works. I also have some great lifelong friends from people on the board that I still see on a regular basis. Those personal relationships that came from the board are very meaningful.
Seattle Works introduced me to other organizations—I'm on the board of Treehouse now, and I first heard of Treehouse through Seattle Works, so it helped me expand my own horizons about what's out there.
As a board member, Seattle Works gave me that professional development of having the fiduciary responsibility for an organization, being on a board, having to problem-solve and mediate other issues with other people who are like-minded but often have diverging interests or perspectives. It required me to get on my fee and speak a lot. Being on the board for five years, roughly, my own personal growth in that period was really notable to me.
The single issue that matters most to me now being a parent, I'm most focused on education and safety for my children and my community.