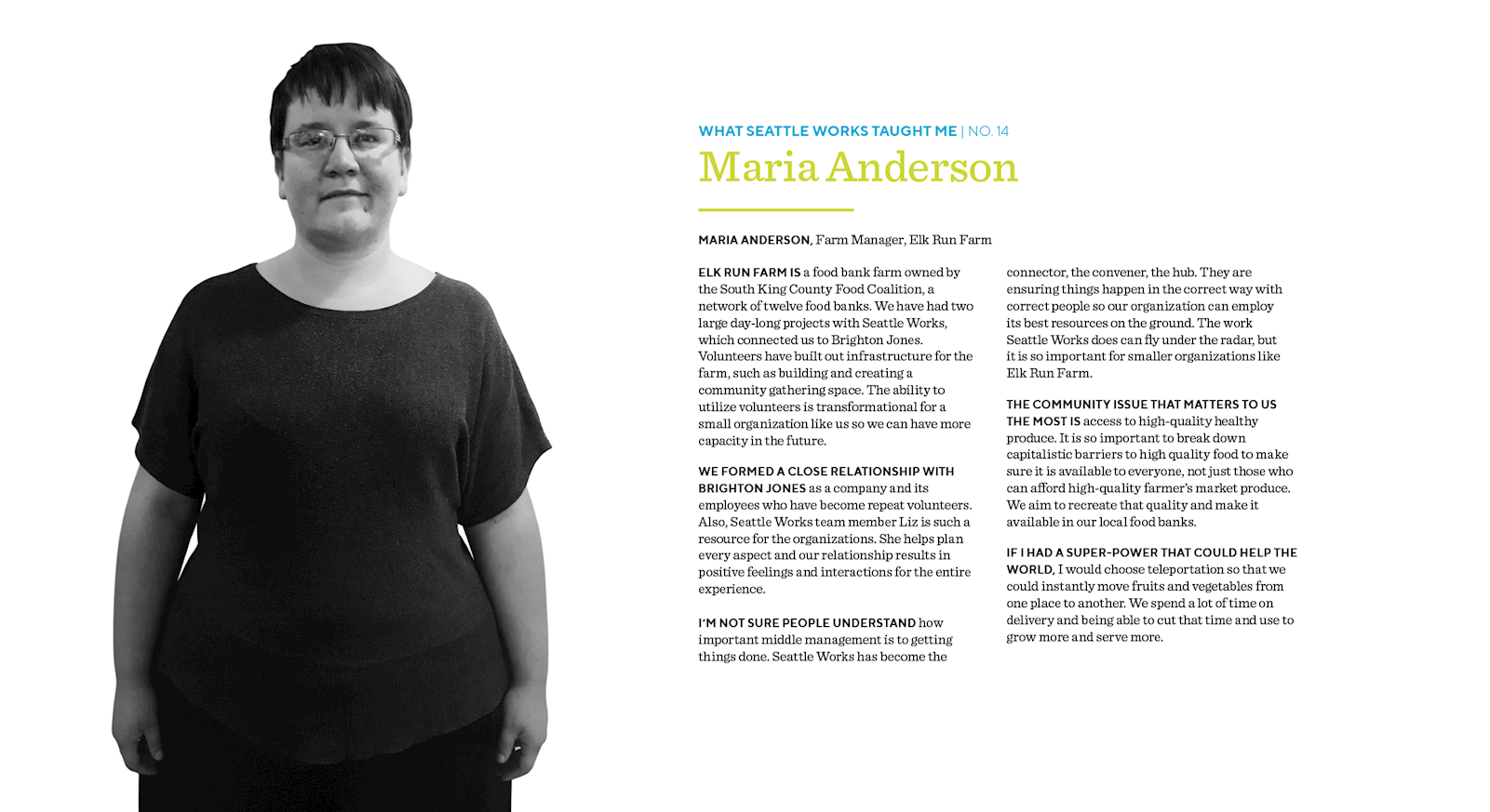 Maria Anderson, Farm Manager, Elk Run Farm
Elk Run Farm is a food bank farm owned by the South King County Food Coalition, a network of twelve food banks. We have had two large day-long projects with Seattle Works, which connected us to Brighton Jones. Volunteers have built out infrastructure for the farm, such as building and creating a community gathering space. The ability to utilize volunteers is transformational for a small organization like us so we can have more capacity in the future.
We formed a close relationship with Brighton Jones as a company and its employees who have become repeat volunteers. Also, Seattle Works team member Liz is such a resource for the organizations. She helps plan every aspect and our relationships results in positive feelings and interactions for the entire experience.
I'm not sure people understand how important middle management is to getting things done. Seattle Works has become the connector, the convener, the hub. They are ensuring things happen in the correct way with correct people so our organization can employ its best resources on the ground. The work Seattle Works does can fly under the radar, but it is so important for smaller organizations like Elk Run Farm.
The community issue that matters to us the most is access to high-quality healthy produce. It is so important to break down capitalistic barriers to high quality food to make sure it is available to everyone, not just those who can afford high-quality farmer's market produce. We aim to recreate that quality and make it available in our local food banks.
If I had a super-power that could help the world, I would choose teleportation so that we could instantly move fruits and vegetables from one place to another. We spend a lot of time on delivery and being able to cut that time and use to grow more and serve more.