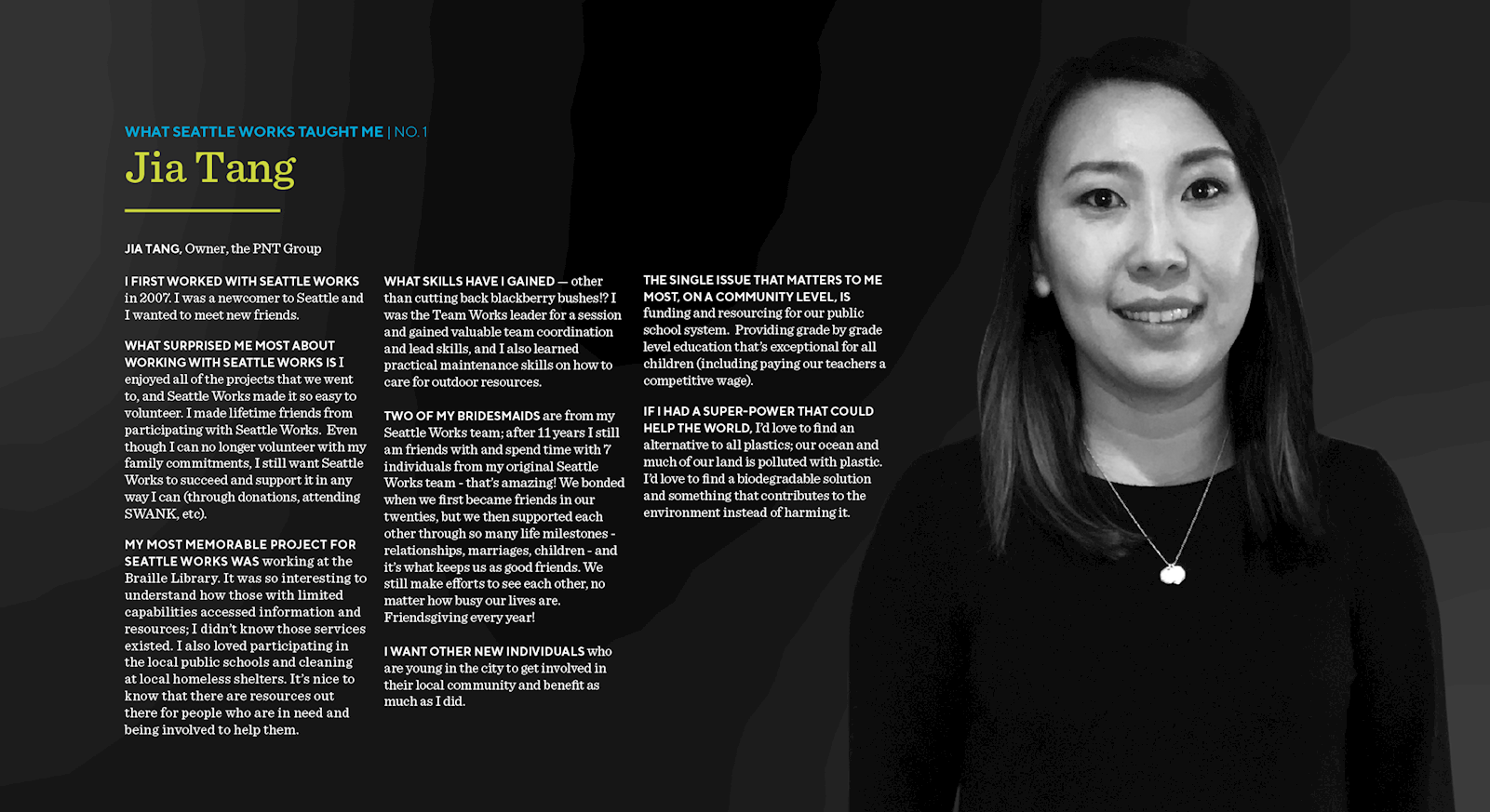 Jia Tang, Owner, the PNT Group
I first worked with Seattle Works in 2007. I was a newcomer to Seattle and I wanted to meet new friends.
What surprised me most about working with Seattle Works is I enjoyed all of the projects that we went to, and Seattle Works made it so easy to volunteer. I made lifetime friends from participating with Seattle Works. Even though I can no longer volunteer with my family commitments, I still want Seattle Works to succeed and support it in any way I can (through donations, attending Swank, etc.).
My most memorable project for Seattle Works was working at the Braille Library. It was so interesting to understand how those with limited capabilities accessed information and resources; I didn't know those services existed. I also loved participating in the local public schools and cleaning local homeless shelters. It's nice to know that there are resources out there for people who are in need and being involved to help them.
What skills have I gained - other than cutting blackberry bushes!? I was the Team Works leader a session and gained valuable team coordination and lead skills, and I also learned practical maintenance skills on how to care for outdoor resources.
Two of my bridesmaids are from my Seattle Works team; after 11 years I still am friends with and spend time with 7 individuals from my original Seattle Works team – that's amazing! We bonded when we first became friends in our twenties, but we then supported each other through so many life milestones – relationships, marriages, children – and it's what keeps us as good friends. We still make efforts to see each other, no matter how busy our lives are. Friendsgiving every year!
I want other new individuals who are young in the city to get involved in their local community and benefit as much as I did.
The single issue that matters to me most, on a community level, is funding and resourcing for our public school system. Providing grade by grade level education that's exceptional for all children (including paying our teachers a competitive wage).
If I had a super-power that could help the world, I'd love to find an alternative to all plastics; our ocean and much of our land is polluted with plastic. I'd love to find a biodegradable solution and something that contributes to the environment instead of harming it.