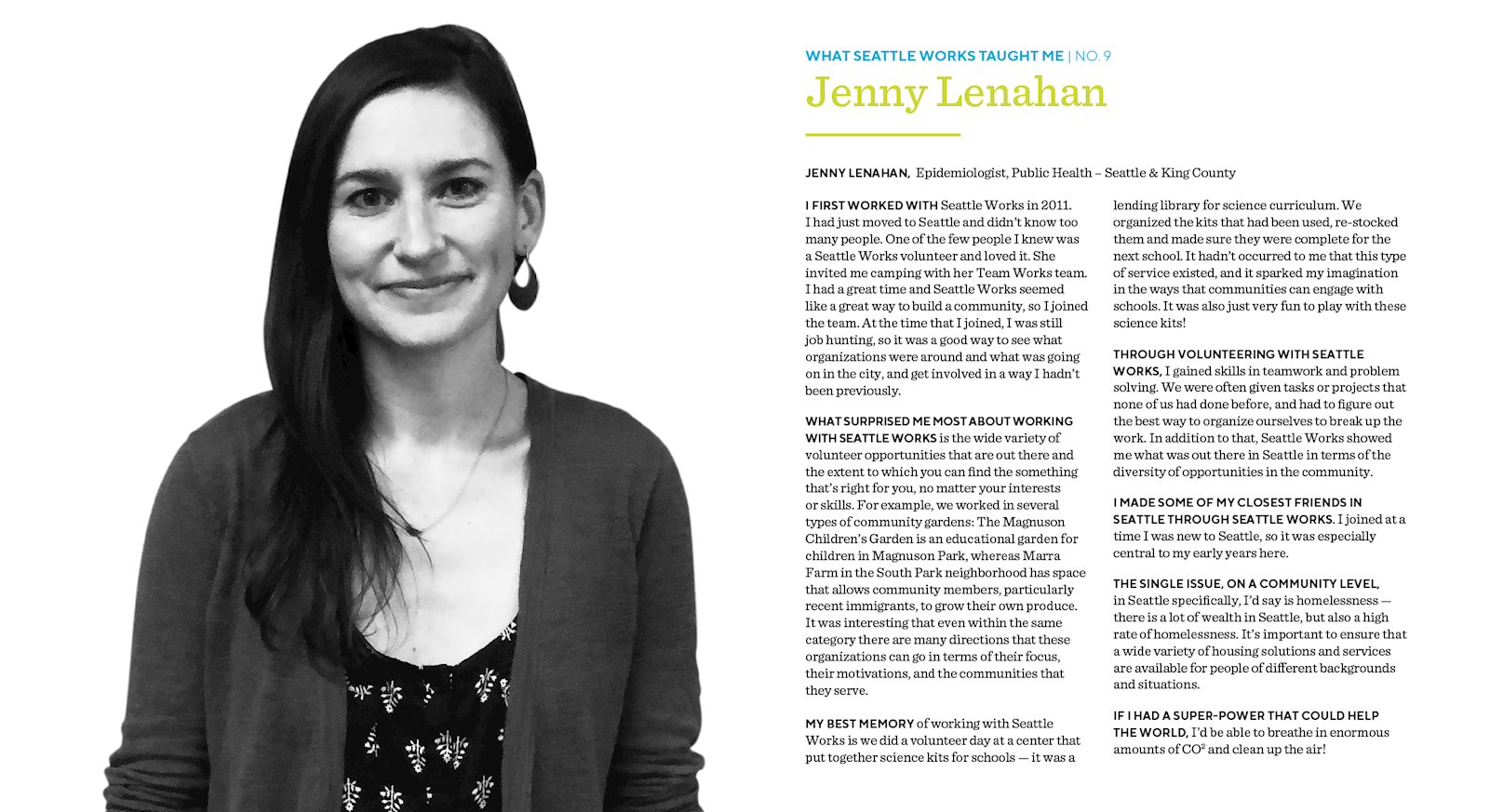 Jenny Lenahan, Epidemiologist, Public Health – Seattle & King County
I first worked with Seattle Works in 2011. I had just moved to Seattle and didn't know too many people. One of the few people I knew was a Seattle Works volunteer and loved it. She invited me camping with her Team Works team. I had a great time and Seattle Works seemed like a great way to build a community, so I joined the team. At the time that I joined, I was still job hunting, so it was a good way to see what organizations were around and what was going on in the city, and get involved in a way I hadn't been previously.
What surprised me most about working with Seattle Works is the wide variety of volunteer opportunities that are out there and the extent to which you can find the something that's right for you, no matter your interests or skills. For example, we worked in several types of community gardens: The Magnuson Children's Garden is an educational garden for children in Magnuson Park, whereas Marra Farm in the South Park neighborhood has space that allows community members, particularly recent immigrants, to grow their own produce. It was interesting that even within the same category there are many directions that these organizations can go in terms of their focus, their motivations, and the communities that they serve.
My best memory of working with Seattle Works is we did a volunteer day at a center that put together science kits for schools—it was a lending library for science curriculum. We organized the kits that had been used, re-stocked them and made sure they were complete for the next school. It hadn't occurred to me that this type of service existed, and it sparked my imagination in the ways that communities can engage with schools. It was also just very fun to play with these science kits!
Through volunteering with Seattle Works, I gained skills in teamwork and problem solving. We were often given tasks or projects that none of us had done before, and had to figure out the best way to organize ourselves to break up the work. In addition to that, Seattle Works showed me what was out there in Seattle in terms of the diversity of opportunities in the community.
I made some of my closest friends in Seattle through Seattle Works. I joined at a time I was new to Seattle, so it was especially central to my early years here.
The single issue, on a community level, in Seattle specifically, I'd say is homelessness—there is a lot of wealth in Seattle, but also a high rate of homelessness. It's important to ensure that there a wide variety of housing solutions and services are available for people of different backgrounds and situations.
If I had a super-power that could help the world, I'd be able to breathe in enormous amounts of CO2 and clean up the air!