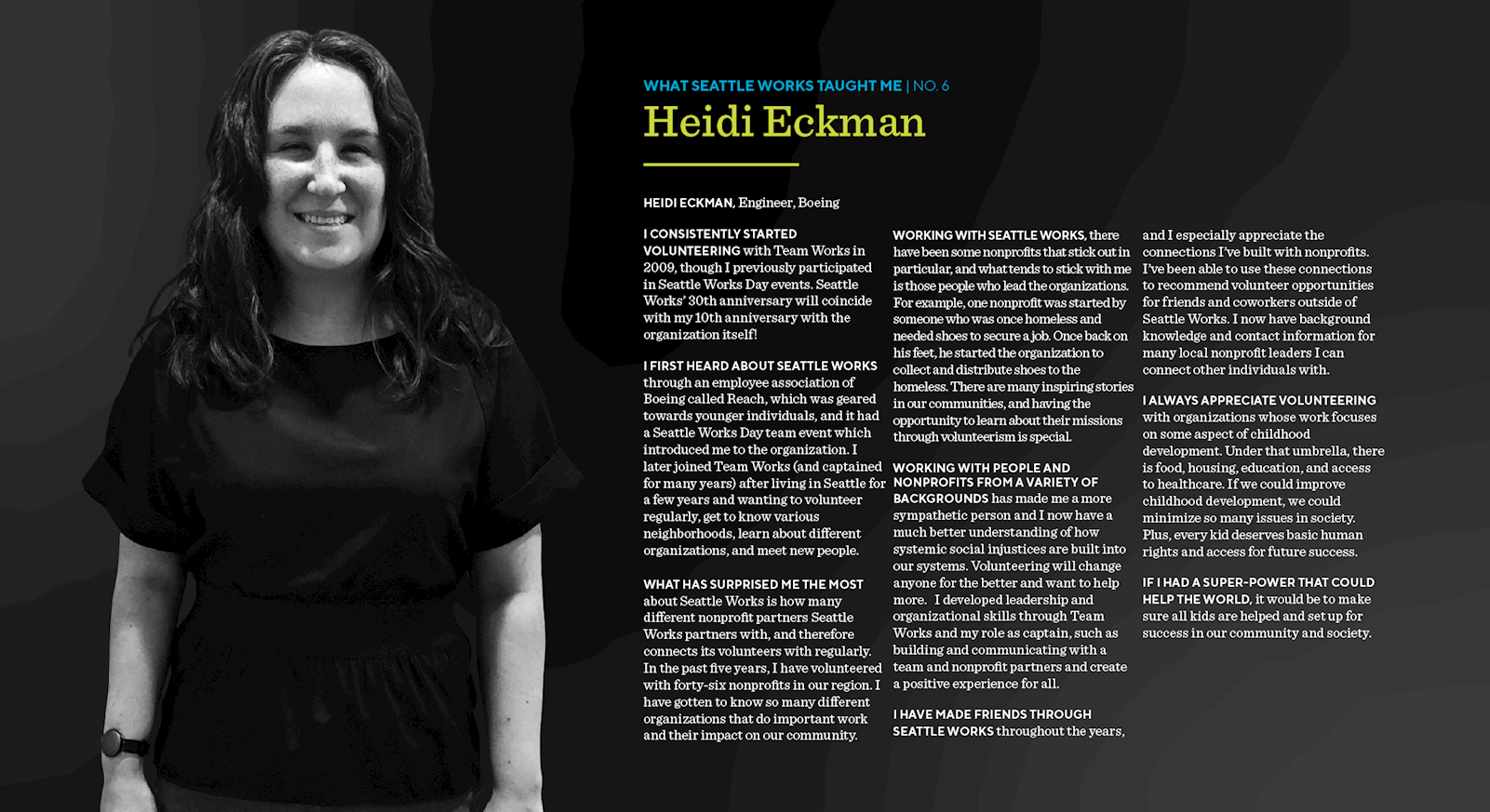 Heidi Eckman, Engineer, Boeing
I consistently started volunteering with Team Works in 2009, though I previously participated in Seattle Works Day events. Seattle Works' 30th anniversary will coincide with my 10th anniversary with the organization itself!
I first heard about Seattle Works through an employee association of Boeing called Reach, which was geared towards younger individuals, and it had a Seattle Works Day team event which introduced me to the organization. I later joined Team Works (and captained for many years) after living in Seattle for a few years and wanting to volunteer regularly, get to know various neighborhoods, learn about different organizations, and meet new people.
What has surprised me the most about Seattle Works is how many different nonprofit partners Seattle Works partners with, and therefore connects its volunteers with regularly. In the past five years, I have volunteered with forty-six nonprofits in our region. I have gotten to know so many different organizations that do important work and their impact on our community.
Working with Seattle Works, there have been some nonprofits that stick out in particular, and what tends to stick with me is those people who lead the organizations. For example, one nonprofit was started by someone who was once homeless and needed shoes to secure a job. Once back on his feet, he started the organization to collect and distribute shoes to the homeless. There are many inspiring stores in our communities, and having the opportunity to learn about their missions through volunteerism is special.
Working with people and nonprofits from a variety of backgrounds has made me a more sympathetic person and I now have a much better understanding of how systemic social injustices are built into our systems. Volunteering will change anyone for the better and want to help more. I developed leadership and organizational skills through Team Works and my role as captain, such as building and communicating with a team and nonprofit partners and create a positive experience for all.
I have made friends through Seattle Works throughout the years, and I especially appreciate the connections I've built with nonprofits. I've been able to use these connections to recommend volunteer opportunities for friends and coworkers outside of Seattle Works. I now have background knowledge and contact information for many local nonprofit leaders I can connect other individuals with.
I always appreciate volunteering with organizations whose work focuses on some aspect of childhood development. Under that umbrella, there is food, housing, education, and access to healthcare. If we could improve childhood development, we could minimize so many issues in society. Plus, every kid deserves basic human rights and access for future success.
If I had a super-power that could help the world, it would be to make sure all kids are helped and set up for success in our community and society.