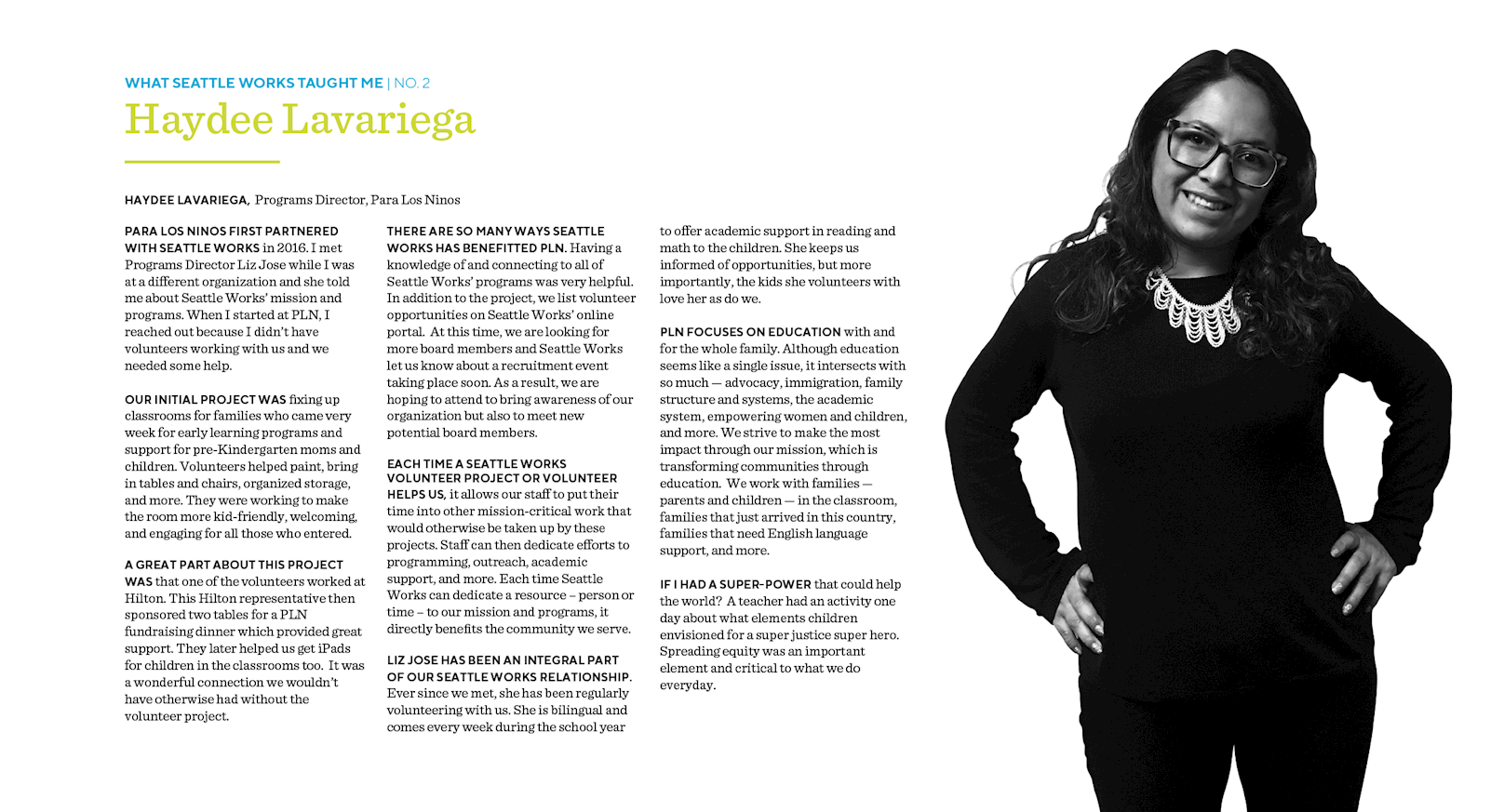 Haydee Lavariega, Programs Director, Para Los Niños
Para Los Niños first partnered with Seattle Works in 2016. I met Programs Director Liz Jose while I was at a different organization and she told me about Seattle Works' mission and programs. When I started at PLN, I reached out because I didn't have volunteers working with us and we needed some help.
Our initial project was fixing up classrooms for families who came every week for early learning programs and support for pre-kindergarten moms and children. Volunteers helped paint, bring in tables and chairs, organized storage, and more. They were working to make the room more kid-friendly, welcoming, and engaging for all those who entered.
A great part about this project was that one of the volunteers worked at Hilton. This Hilton representative then sponsored two tables for a PLN fundraising dinner which provided great support. They later helped us get iPads for children in the classrooms too. It was a wonderful connection we wouldn't have otherwise had without the volunteer project.
There are so many ways Seattle Works has benefitted PLN. Having a knowledge of and connecting to all of Seattle Works' programs was very helpful. In addition to the project, we listed volunteer opportunities on Seattle Works' online portal. At this time, we are looking for more board members and Seattle Works let us know about a recruitment event taking place soon. As a result, we are hoping to attend to bring awareness of our organization but also to meet new potential board members.
Each time a Seattle Works volunteer project or volunteer helps us, it allows our staff to put their time into other mission-critical work that would otherwise be taken up by these projects. Staff can then dedicate efforts to programming, outreach, academic support, and more. Each time Seattle Works can dedicate a resources – person or time - to our mission and programs, it directly benefits the community we serve.
Liz Jose has been an integral part of our Seattle Works relationship. Ever since we met, she has been regularly volunteering with us. She is bilingual and comes every week during the school year to offer academic support in reading and math to the children. She keeps us informed of opportunities, but more importantly, the kids she volunteers with love her as do we.
PLN focuses on education with and for the whole family. Although education seems like a single issue, it intersects with so much – advocacy, immigration, family structure and systems, the academic system, empowering women and children, and more. We strive to make the most impact through our mission, which is transforming communities through education. We work with families – parents and children – in the classroom, families that just arrived in this country, families that need English language support, and more.
If I had a super-power that could help the world? A teacher had an activity one day about what elements children envisioned for a super justice super hero. Spreading equity was an important element and critical to what we do everyday.