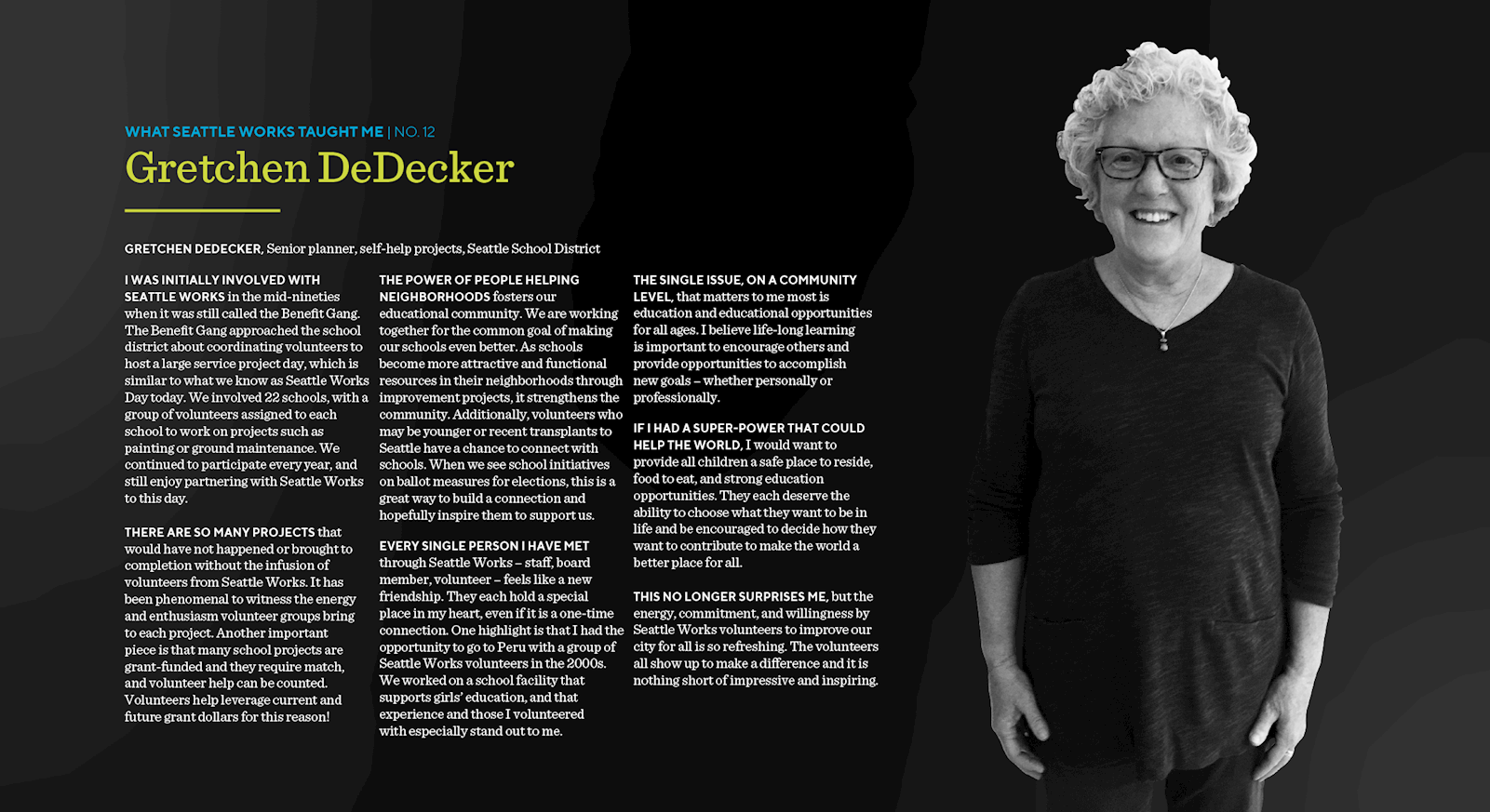 Gretchen DeDecker, Senior planner, self-help projects, Seattle School District
I was initially involved with Seattle Works in the mid-nineties when it was still called the Benefit Gang. The Benefit Gang approached the school district about coordinating volunteers to host a large service project day, which is similar to what we know as Seattle Works Day today. We involved 22 schools, with a group of volunteers assigned to each school to work on projects such as painting or ground maintenance. We continued to participate every year, and still enjoy partnering with Seattle Works to this day.
There are so many projects that would not have happened or brought to completion without the infusion of volunteers from Seattle Works. It has been phenomenal to witness the energy and enthusiasm volunteer groups bring to each project. Another important piece is that many school projects are grant-funded and they require match, and volunteer help can be counted. Volunteers help leverage current and future grant dollars for this reason!
The power of people helping neighborhoods fosters our educational community. We are working together for the common goal of making our schools even better. As schools become more attractive and functional resources in their neighborhoods through improvement projects, it strengthens the community. Additionally, volunteers who may be younger or recent transplants to Seattle have a chance to connect with schools. When we see school initiatives on ballot measures for elections, this is a great way to build a connection and hopefully inspire them to support us.
Every single person I have met through Seattle Works – staff, board members, volunteer – feels like a new friendship. They each hold a special place in my heart, even if it is a one-time connection. One highlight is that I had the opportunity to go to Peru with a group of Seattle Works volunteers in the 2000s. We worked on a school facility that supports girls' education, and that experience and those I volunteered with especially stand out to me.
The single issue, on a community level, that matters to me most is education and educational opportunities for all ages. I believe life-long learning is important to encourage others and provide opportunities to accomplish new goals – whether personally or professionally.
If I had a super-power that could help the world, I would want to provide all children a safe place to reside, food to eat, and strong education opportunities. They each deserve the ability to choose what they want to be in life and be encouraged to decide how they want to contribute to make the world a better place for all.
This no longer surprises me, but the energy, commitment, and willingness by Seattle Works volunteers to improve our city for all is so refreshing. The volunteers all show up to make a difference and it is nothing short of impressive and inspiring.