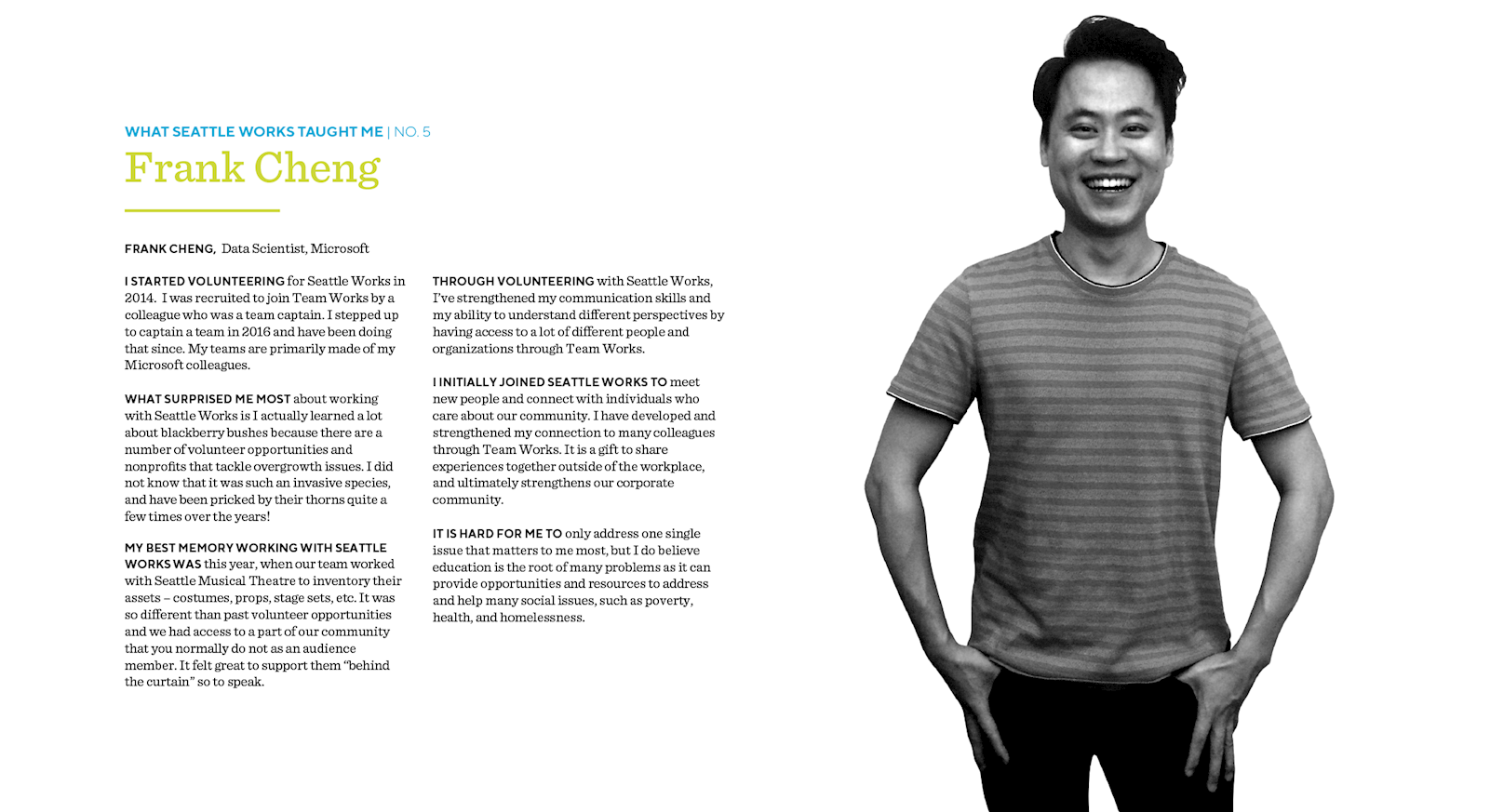 Frank Cheng, Data Scientist, Microsoft
I started volunteering for Seattle Works in 2014. I was recruited to join Team Works by a colleague who was a team captain. I stepped up to captain a team in 2016 and have been doing that since. My teams are primarily made of my Microsoft colleagues.
What surprised me most about working with Seattle Works is I actually learned a lot about blackberry bushes because there a number of volunteer opportunities and nonprofits that tackle overgrowth issues. I did not know that it was such an invasive species, and have been pricked by their thorns quite a few times over the years!
My best memory of working with Seattle Works was this year, when our team worked with Seattle Musical Theatre to inventory their assets – costumes, props, stage sets, etc. It was so different than past volunteer opportunities and we had access to a part of our community that you normally do not as an audience member. It felt great to support them "behind the curtain" so to speak.
Through volunteering with Seattle Works, I've strengthened my communication skills and my ability to understand different perspectives by having access to a lot of different people and organizations through Team Works.
I initially joined Seattle Works to meet new people and connect with individuals who care about our community. I have developed and strengthened my connection to many colleagues through Team Works. It is a gift to share experiences together outside of the workplace, and ultimately strengthens our corporate community.
It's hard for me to only address one single issue that matters to me most, but I do believe education is the root of may problems as it can provide opportunities and resources to address and help many social issues, such as poverty, health, and homelessness.