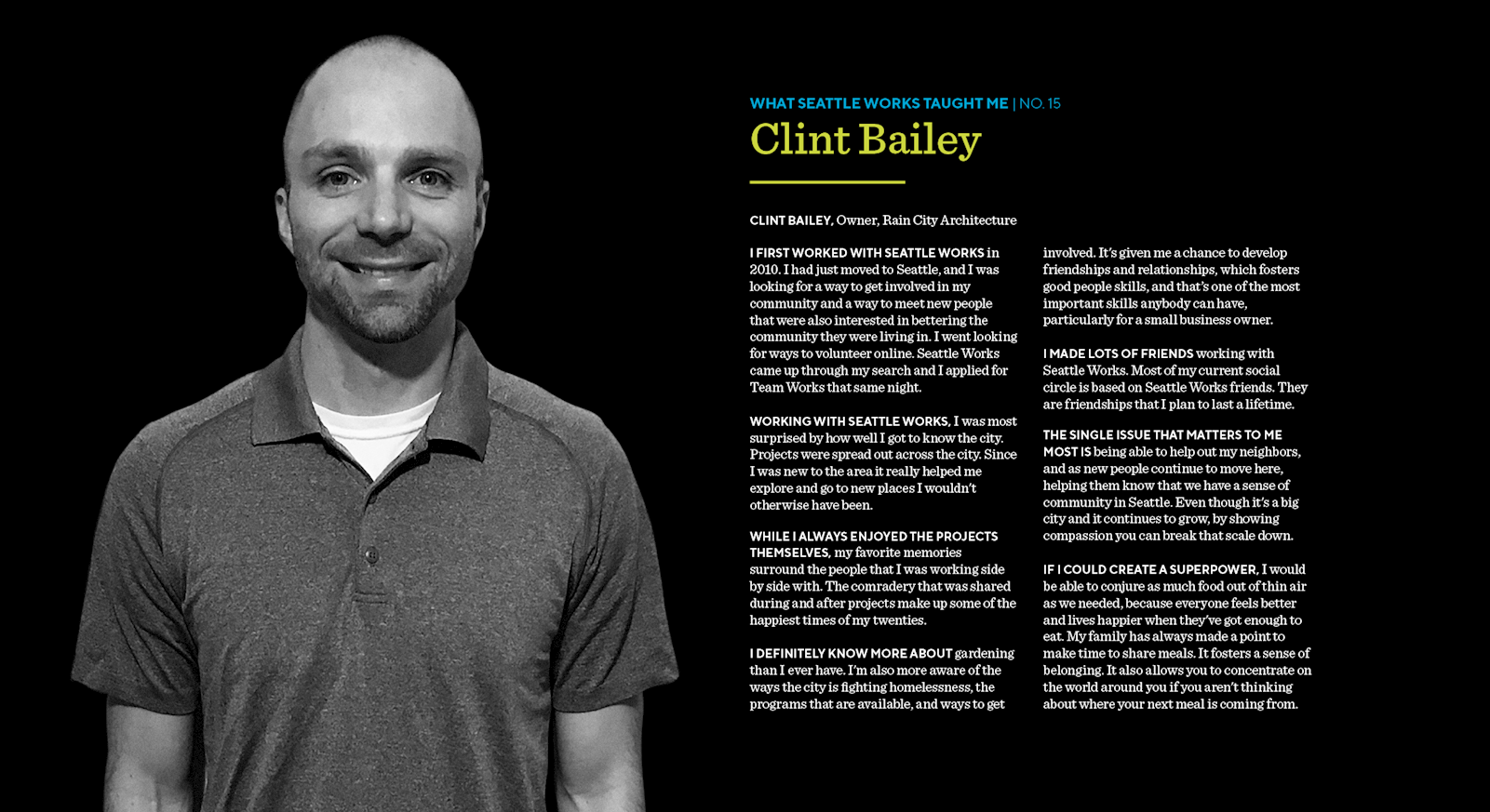 Clint Bailey, Owner, Rain City Architecture
I first worked with Seattle Works in 2010. I had just moved to Seattle, and I was looking for a way to get involved in my community and a way to meet new people that were also interested in bettering the community they were living in. I went looking for ways to volunteer online. Seattle Works came up through my search and I applied for Team Works that same night.
Working with Seattle Works, I was most surprised by how well I got to know the city. Projects were spread out across the city. Since I was new to the area it really helped me explore and go to new places I wouldn't otherwise have been.
While I always enjoyed the projects themselves, my favorite memories surround the people that I was working side by side with. The comradery that was shared during and after projects make up some of the happiest time of my twenties.
I definitely know more about gardening than I ever have. I'm also more aware of the ways the city is fighting homelessness, the programs that are available, and ways to get involved. It's given me a chance to develop friendships and relationships, which fosters good people skills, and that's one of the most important skills anybody can have, particularly for a small business owner.
I made lots of friends working with Seattle Works. Most of my current social circle is based on Seattle Works friends. They are friendships that I plan to last a lifetime.
The single issue that matters to me most is being able to help out my neighbors, and as new people continue to move here, helping them know that we have a sense of community in Seattle. Even though it's a big city and it continues to grow, by showing compassion you can break that scale down.
If I could create a superpower, I would be able to conjure as much food out of thin air as we needed, because everyone feels better and lives happier when they've got enough to eat. My family has always made a point to make time to share meals. It fosters a sense of belonging. It also allows you to concentrate on the world around you if you aren't thinking about where your next meal is coming from.