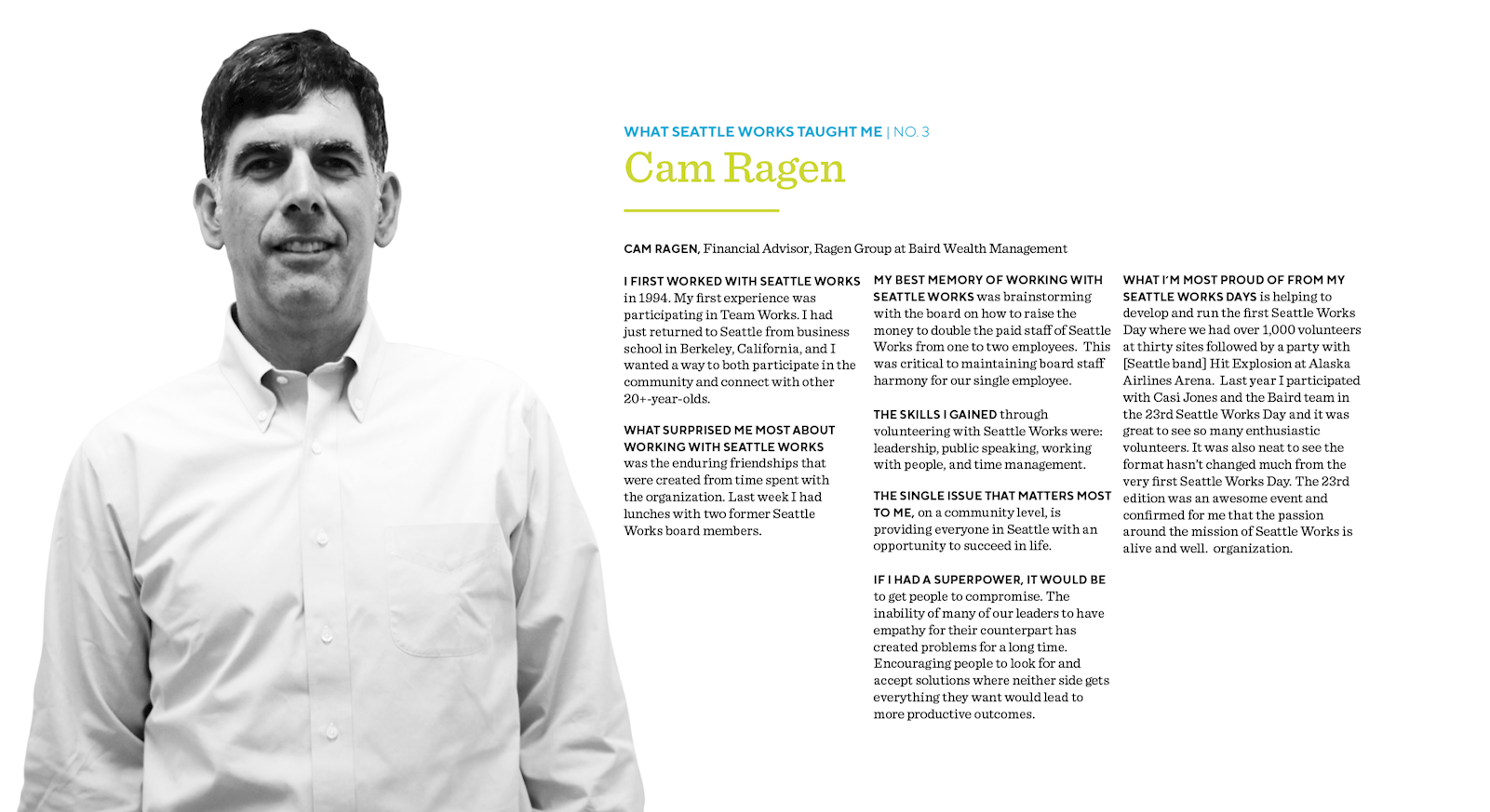 Cam Ragen, Financial Advisor, Ragen Group at Baird Wealth Management
I first worked with Seattle Works in 1994. My first experience was participating in Team Works. I had just returned to Seattle from business school in Berkeley, California, and I wanted a way to both participate in the community and connect with other 20-plus-year-olds.
What surprised me most about working with Seattle Works was the enduring friendships that were created from that time spent with the organization. Last week I had lunches with two former Seattle Works board members.
My best memory of working with Seattle Works was brainstorming with the board on how to raise the money to double the paid staff of Seattle Works from one to two employees. This was critical to maintaining board staff harmony for our single employee.
The single issue that matters most to me, on a community level, is providing everyone in Seattle with an opportunity to succeed in life.
If I had a superpower, it would be to get people to compromise. The inability of many of our leaders to have empathy for their counterpart has created problems for a long time. Encouraging people to look for and accept solutions where neither side gets everything they want would lead to more productive outcomes.
What am I most proud of from my Seattle Works days is helping to develop and run the first Seattle Works Day where we had over 1,000 volunteers at thirty sites followed by a party with [Seattle Band] Hit Explosion at Alaska Airlines Arena. Last year I participated with Casi Jones and the Baird team in the 23rd Seattle Works Day and it was great to see so many enthusiastic volunteers. It was also neat to see the format hasn't changed much from the very first Seattle Works Day. The 23rd edition was an awesome event and confirmed for me that the passion around the mission of Seattle Works is alive and well.