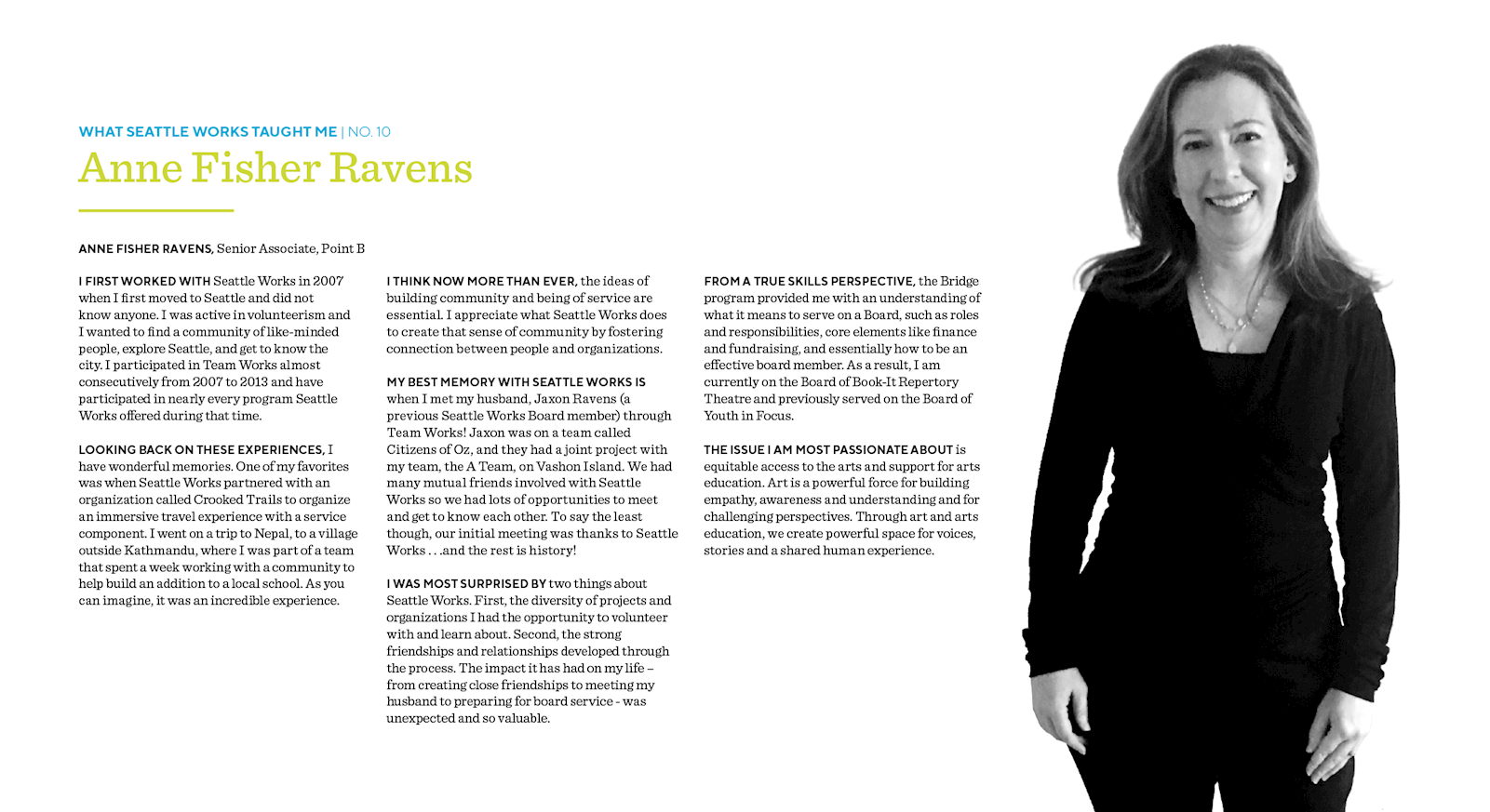 Anne Fisher Ravens, Senior Associate, Point B
I first worked with Seattle Works in 2007 when I first moved to Seattle and did not know anyone. I was active in volunteerism and I wanted to find a community of like-minded people, explore Seattle, and get to know the city. I participated in Team Works almost consecutively from 2007 to 2013 and have participated in nearly every program Seattle Works offered during that time.
Looking back on these experiences, I have wonderful memories. One of my favorites was when Seattle Works partnered with an organization called Crooked Trails to organize an immersive travel experience with a service component. I went on a trip to Nepal to a village outside Kathmandu, where I was part of a team that spent a week working with a community to help build an addition to a local school. As you can imagine, it was an incredible experience.
I think now more than ever, the ideas of building community and being of service are essential. I appreciate what Seattle Works does to create that sense of community by fostering connection between people and organizations.
My best memory with Seattle Works is when I met my husband, Jaxon Ravens (a previous Seattle Works Board member) through Team Works! Jaxon was on a team called Citizens of Oz, and they had a joint project with my team, the A Team, on Vashon Island. We had many mutual friends involved with Seattle Works so we had lots of opportunities to meet and get to know each other. To say the least though, our initial meeting was thanks to Seattle Works…and the rest is history!
I was most surprised by two things about Seattle Works. First, the diversity of projects and organizations I had the opportunity to volunteer with and learn about. Second, the strong friendships and relationships developed through the process. The impact it has had on my life—from creating close friendships to meeting my husband to preparing for board service—was unexpected and so valuable.
From a true skills perspective, the Bridge program provided me with an understanding of what it means to serve on a Board, such as roles and responsibilities, core elements like finance and fundraising, and essentially how to be an effective board member. As a result, I am currently on the Board of Book-It Repertory Theatre and previously served on the Board of Youth in Focus.
The issue I am most passionate about is equitable access to the arts and support for arts education. Art is a powerful force for building empathy, awareness and understanding, and for challenging perspectives. Through art and arts education, we create powerful space for voices, stories, and a shared human experience.