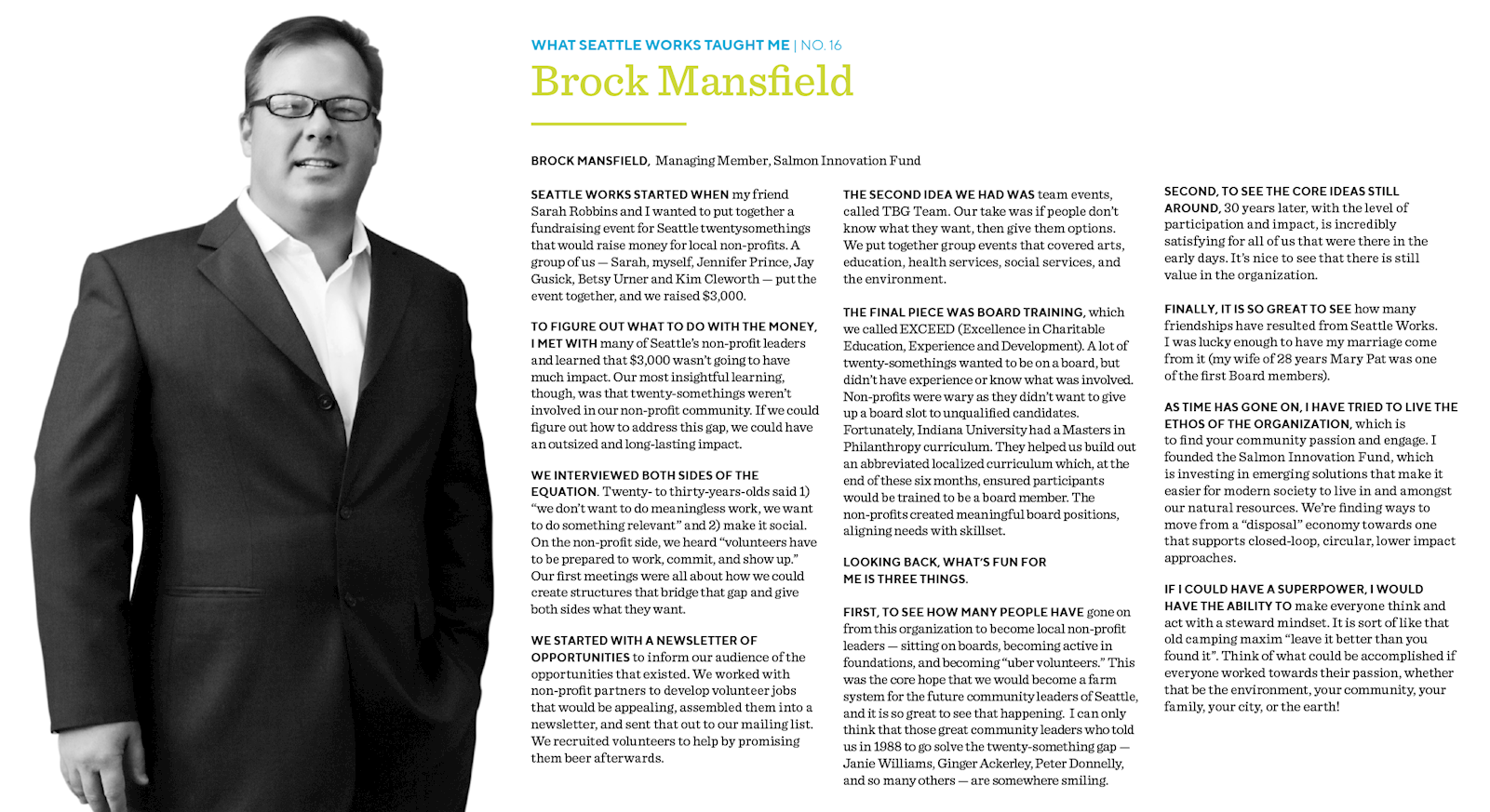 Brock Mansfield, Managing Member, Salmon Innovation Fund
Seattle Works started when my friend Sarah Robbins and I wanted to put together a fundraising event for Seattle twenty-somethings that would raise money for local nonprofits. A group of us – Sara, myself, Jennifer Prince, Jay Gusick, Betsy Urner and Kim Cleworth- put the event together and we raised $3,000.
To figure out what to do with the money I met with many of Seattle non-profit leaders and learned that $3000 wasn't going to have much impact. Our most insightful learning thorough was that twenty somethings weren't involved in our non profit community. If we could figure out how to address this gap, we could have an outsized and long-lasting impact.
We interviewed both sides of the Equation. Twenty-to thirty-years olds said 1)" we don't want to do meaningless work, we want to do something relevant" and 2) make it social. On the non-profit side, we heard "volunteers have to be prepared to work, commit and show up." Our first meetings were all about how we could create structures that bridge that gap and give both sides what they want.
We started with a newsletter of opportunities to inform our audience of the opportunities that existed. We worked with non-profit partners to develop volunteer jobs that would be appealing, assembled them into a newsletter and sent that out to our mailing list. WE recruited volunteers to help by promising them beef afterwards.
The second idea we had was team events, called TBG Team. Our take was if people don't know what they want, then give them options. We put together group events that covered arts, education health services, social services, and the environment.
The final piece was board training, which we called EXCEED (excellence in Charitable Education, Experience, and Development). A lot of twenty-somethings wanted to be on a board but didn't have experience or know what was involved. Non-profits were wary as they didn't want to give up a board slot to unqualified candidates. Fortunately, Indiana University had a Masters in Philanthropy curriculum. They helped us build out an abbreviated localized curriculum which, at the end of these six months, ensured participants would be trained to be a board member. The non-profits created meaningful board positions, aligning needs with skillset.
Looking back, what's fun for me is three things.
First, to see how many people have gone on from this organization to become local non-profits leaders- sitting on boards, becoming active in foundations, and becoming "uber volunteers." This was the core hope that we would become a farm system for the future community leaders of Seattle, and it is so great o see that happening, I can only think that these great community leaders who told us in 1988 to go solve the twenty-something gap- Janie Williams, Ginger Ackerley, Peter Donnelly, and so many others- are somewhere smiling.
Second, to see the core ideas still around, 30 years later, with the level of participation and impact, is incredibly satisfying for all of us that were there in the early days, it's nice to see that there is still value in the organization.
Finally, it is so great to see how many friendships have resulted from Seattle Works, I was lucky enough to have my marriage come from it (my wife of 28 years Mary Pat was once of the first Board members).
As time has gone on, I have tried to live the ethos of the organization, which is to find your community passion and engage. I founded the Salmon Innovation Fund, which is investing in emerging solutions hat make it easier for modern society to live in and amongst our natural resources. Were finding way s to move from a "disposal" economy towards one that supports closed-loop, circular, lower impact approaches.
If I could have a superpower, I would have the ability to make everyone think and act with a steward mindset. It is sort of like that old camping maxim "leave it better than you found it." Think of what could be accomplished if everyone worked towards their passion, whether that be the environment, your community, your family, your city, or the earth.